5 burning questions we have after Line of Duty episode 4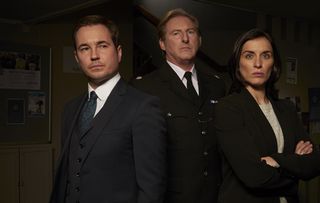 (Image credit: World Productions/ BBC / Des Wil)
It was Interrogation Central in Line of Duty episode four, which only leads to lots more questions!
After another hum-dinger of an episode of Line of Duty, which saw Nick Huntley (Lee Ingleby) panic under questioning before his wife Roz (Thandie Newton) brilliantly turned the tables on AC-12 during her own interrogation, here are some burning questions we really want answered…
Is Maneet (Maya Sondhi) really grassing on AC-12? The pregnant police officer was the most reliable member of the anti-corruption squad so why was she handing something over to slimy ACC Hilton (Paul Higgins)? Is she really betraying her colleagues?
Does solicitor Jimmy Lakewell have anything to hide? Nick Huntley turned to Jimmy following the attack on Steve, but could the oily solicitor have more to reveal? The fact that Jimmy is played by Patrick Baladi, who starred as dodgy surgeon Roger Hurley in Line of Duty writer Jed Mercurio's Bodies, surely means he will be back?
What is going on with the Huntleys' marriage? He's insanely jealous and she slaps him about and makes him cry and lies that she is having an affair? What the heck has happened in the Huntleys' past that has led to such dysfunction? We need to know!
Did Nick Huntley really attack Steve? Huntley seemed like the only candidate for Steve's attack and he was as nervous as anything during that interrogation, but was the 'real' Balaclava Man responsible and why did Steve say he might just have been 'remembering an old case' when he recalled what had happened to him?
Is AC-12 finished? Kate's cover has been blown, Hastings has been accused of being a sexist old dinosaur, Steve's in hospital looking distinctly worse for wear and AC-12 has been ordered to stop investigating Roz. Can the anti-corruption squad ever repair their reputation after Roz destroyed them within about 30 seconds?!
Line of Duty continues on BBC1 on Sunday night
Get the latest updates, reviews and unmissable series to watch and more!
Thank you for signing up to Whattowatch. You will receive a verification email shortly.
There was a problem. Please refresh the page and try again.