Age Before Beauty - Meet the characters from BBC 1's new drama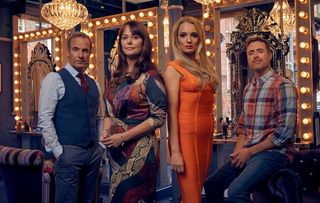 Robson Green, Polly Walker, Sue Johnston, Lisa Riley and co-stars on Age Before Beauty, their glossy new family saga set in a Manchester beauty salon...
Book your appointments now for BBC1's new star-studded family saga Age Before Beauty, penned by Poldark and Cutting It writer Debbie Horsfield.
Starring Polly Walker, Sue Johnston, Lisa Riley and Robson Green, the six-parter is set in a run-down beauty salon in Manchester, and centres on Polly's character, Bel, who returns to the failing family business after taking a career break to bring up her twins. But as she tries to improve the salon's fortunes, she must deal with sibling rivalry and her own marital issues…
'This drama offers a lot,' says Polly, 52. 'It's about not throwing away relationships – just because they are comfortable is not to say they are without value. It also carries the vital message that the outside doesn't really matter, it's what is inside that is important.'
Last July, TV Times visited the set of Age Before Beauty, where, during a break in filming, the cast introduced us to their characters…
ISABEL 'BEL' FINCH Polly Walker
Married to Wes for 25 years, Bel, 47, hung up her beautician's apron after becoming mum to their twins Lexie and Tyler. Now her kids are 18 and off to university, brother-in-law Teddy has asked the eldest sister to come back to the salon, to stop her family running it into the ground.
'Bel's the heart of the piece,' says Polly, who starred in Prisoners Wives and Line of Duty. 'Bel has a fervent sense of loyalty, so agrees to return temporarily. It's fine, until something completely rocks her world...'
WESLEY FINCH James Murray
Bel's husband, 48, always sees the best in people, but is feeling bored with life. Owner of a joinery business, his head is turned by personal trainer Lorelei (Madeleine Mantock) while installing a new kitchen for her… 'Wes is a family man with a big heart. His kids are off to university and his marriage isn't stale, but is in need of a turbo-charge,' says James, who's married to his Cutting It co-star Sarah Parish. 'But instead of doing the right thing, he does the wrong thing…'
LEANNE ROXTON Kelly Harrison
Bel's self-obsessed sister, 40, is married to Teddy and currently runs the salon. Part-time nail technician, part-time personal stylist, her main aim in life is to be better than Bel.
'She's fun, sassy and she couldn't care less what anyone thinks about her,' enthuses Kelly, who played paramedic Nikki Marshall in Casualty. 'Leanne may be all bravado, but she has a very vulnerable side and the one person whose opinion she cares about is Bel. The fact Bel barely thinks about her makes Leanne incredibly bitter.'
TEDDY ROXTON Robson Green
The successful businessman, 48, has been friends with Bel and Wes for years. Beneath the charming veneer, though, is a real schemer, and he always has a plan to get exactly what he wants…
'On the surface, Teddy's a caring individual who has nothing but positive things to say – but all isn't as it seems,' warns Grantchester star Robson. 'He's a pathological liar, but his actions are rooted in truth and everything he does stems from an absolute devotion to love…'
TINA REGAN Lisa Riley
Bel's tomboy tattoo artist sister, 45, has a sensible head on her shoulders. She pretends to be a lesbian so that her crazy family don't quiz her on why she's still single.
'Tina deals with things through her sarcasm,' says Lisa, who's impressive CV includes Emmerdale, Fat Friends and Strictly. 'She is the confidante and totem pole who keeps the family together. Robson and I decided that Tina is like the modern day Miss Marple; nothing gets past her. She's everyone's sister and friend because she is so direct and deals with things through truth and honesty and I love that about her.'
HEIDI REGAN Vicky Myers
Single mum to nine-year-old Disney, the cosmetic surgery addict and 'Lash Queen', 35, is the youngest of the sisters and obsesses about entering her daughter into beauty pageants.
'Heidi believes one day her prince will come,' says Paranoid star Vicky, who's blonde hair was dyed a bespoke candyfloss pink hue for this role. 'She's always happy, even though inside her heart is breaking she will always have a smile on her face.'
IVY-RAE REGAN Sue Johnston
The spray-tan technician and Northern Soul fanatic is in her 60s and married to Chizzler Regan (Struan Rodger). They have an open relationship, but despite her dalliances with other men, she always returns home to her husband. 'I've always played maternal women and Ivy-Rae is completely different,' says The Royle Family legend Sue. 'She is ambivalent towards her four daughters and is more interested in her life than theirs. They call her Razor because she's sharp and tough.'
Age Before Beauty starts Tuesday 31 July at 9:00pm on BBC 1
Get the What to Watch Newsletter
The latest updates, reviews and unmissable series to watch and more!