Age Before Beauty's Polly Walker on whether Bel will cheat with Teddy!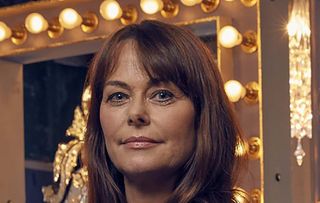 (Image credit: BBC/Matchlight Production/BBC)
Polly Beauty spills the beans on the Age Before Beauty finale and reveals why the glossy drama is a breath of fresh air
As Age Before Beauty gears up for an epic two-part finale next week, can troubled beautician Bel Finch finally get the happiness she deserves?
Poor Bel, played by Polly Walker, has certainly been put through the mill in the vibrant BBC1 drama after learning that husband Wes (James Murray) has cheated her with personal trainer Lorelei (Madeleine Mantock). But now matters are becoming complicated as Bel's besotted brother-in-law Teddy's (Robson Green) secret plot – 30 years in the planning! – to lure her away from Wes may be starting to pay dividends…
Here Polly Walker tells TV Times what's in store in the Age Before Beauty finale…
TV Times: Bel's growing dangerously close to Teddy. Could she cheat?
Polly Walker: "I can't give much away but her confidence has been crushed, she's questioning her self-worth and needs something to make her feel lovable again. She's been oblivious to the fact that Teddy's keen on her but slowly it dawns on her and they go on a journey together. But Bel's not a femme fatale. She's principled and loyal, which is why her world was rocked by what Wes has done."
TVT: Can you give any hints about the finale? Will it be explosive?!
PW: "Yes! The secrets all come out but not in a way that you'd expect and they're not resolved in a way you'd expect either. It has a very unconventional ending… Trust me, you won't guess it! I'd be up for doing another series. There's potential for things to go all over the place!"
TVT: What has captured the imagination about the show?
PW: "It's a breath of fresh air. It is colourful and different and original and a rollercoaster ride. It doesn't take itself too seriously but hopefully it connects with people's emotions and moves them. Also the 'beauty is only skin deep' message is a good one to put out there coming straight on the heels of Love Island! This is the perfect antidote. You don't have to be gorgeous, it's about what's going on inside."
TVT: There are several fantasy sequences in the show. Did you enjoy singing and dancing in them?
PW: "The show's writer Debbie Horsfield does those sorts of scenes in lots of her dramas and they are joyful, tongue-in-cheek and hopefully put a smile on people's faces. They're fun to do and I love dancing but singing isn't my forte - I have a truly horrible voice! But I get to sing with Robson at one point so I just sang quietly and let him sing."
TVT: You've worked in America a lot and lived there for a long time, was it nice to be in a very British show again?
PW: "I loved every minute of being with a British crew and British actors. There was no nonsense and we just got down to work. At times in America it's about stars and egos and that's not how I like to work, it doesn't bring out the best in me, so to be back in Britain and amongst family and friends is right for me."
TVT: You've been in everything from Rome to Mr Selfridge, do you get recognised a lot?
PW: "Since Age Before Beauty has been out, I've had people look at me and go, 'Do I know you?' or, 'Did I go to school with you?!' Sometimes I get die-hard Rome fans or some sci-fi person who likes a weird sci-fi show I did. But I'm surprised when I get recognised because I'm always dressed horrendously and look exhausted so I think, 'How did you recognise me?!'"
Age Before Beauty concludes on Tuesday 28 and Wednesday 29 August on BBC1 at 9pm
Get the latest updates, reviews and unmissable series to watch and more!
Thank you for signing up to Whattowatch. You will receive a verification email shortly.
There was a problem. Please refresh the page and try again.