Anthony Head: 'It's so lovely to be working with my daughter Daisy in Girlfriends'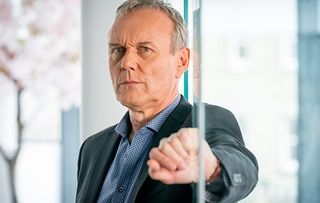 Father and daughter Anthony and Daisy Head reveal all about starring together in Kay Mellor drama Girlfriends
Working with family members can be tricky, but Anthony Head and his daughter Daisy have told TV Times that working together on Kay Mellor's new ITV drama Girlfriends has being nothing but a joy.
Soon Daisy's character, cruise ship entertainer Ruby, deliver a revelation for her mum Linda (Phyllis Logan). Meanwhile magazine owner John, played by Anthony, tries to convince his fiery estranged lover Sue (Miranda Richardson) not to take him to an age discrimination tribunal. Anthony's other daughter, Emily Head, is of course in Emmerdale!
Here, Anthony and Daisy Head tell TV Times more about their roles in Girlfriends and their thrill at getting the chance to work together…
TV Times: What's in store for your characters as Girlfriends continues? Anthony Head: "Well John's not necessarily a bad guy, he just thinks he is in the right. It's fascinating the way it plays out with Sue in a real and emotive way…"
Daisy Head: "Ruby was close to her dad who is presumed dead on a cruise ship so she struggles because there is no closure over what was happened to him. Meanwhile her on-off boyfriend Tom [Matthew Lewis], the son of her mum's friend Gail [Zoe Wanamaker] gives her more issues to deal with."
TVT: How did you feel when you were both cast in Girlfriends? DH: "I've been saying I got the role first but that's not strictly true! I'd worked with Kay before on The Syndicate and introduced Dad to her when he visited me on set and she said she'd love to work with him, so she called him first." AH: "Yes, she told me she wanted both of us and was happy to wait as we were tied into other things. It's lovely to be together in it and we've laughed a lot." DH: "Oh it has been so much fun. Even though we don't have scenes together, we were both on set at the same time and we'd love to work together more. He played my stepdad in [US drama] Guilt last year but we first worked together in [Sarah Lancashire crime drama] Rose and Maloney when I was about 12 and I played his dead daughter and just lay in a bed! I've always loved working with Dad and my sister [Emmerdale star Emily Head] but it is refreshing not being related in Girlfriends and just being two actors in the same production."
TVT: Do you ever give Daisy acting advice Anthony? DH: "Yes, he said don't do it!" AH: "That's not what I said!" DH: "No, when I was 11 and I wanted to become professional, my mum [animal behaviourist Sarah Fisher] told Dad to ask around. He was hesitant because it's a difficult career. But she said, 'Tony, if she ends up doing another job because she didn't start now, do you want to be the reason?'" AH: "I was always happy that you'd act. I'd just never thought of anybody wanting to do this professionally at the age that Daisy was then. Now, I love watching both my daughters act because they're so good. It does make me emotional because I feel huge pride." DH: "He has been a great support system but he's biased!"
TVT: Daisy, what was it like growing up on set when your dad was in shows like Buffy? DH: "The best thing ever! Since I was about three I've watched him be other characters. It's fun when they are so different from the person I know as my dad. I always had the acting bug. But being part of the atmosphere on set really made me realise this was what I wanted to do." AH: "For about seven years, I was away for about nine months a year. The time we were together was wonderful and we really bonded. Now, what I love about both girls is that they are respectful and appreciate other people's work and they learned that from being on set." DH: "And from you. Whenever I meet anyone who Dad has worked with, they all have nothing but kind words to say about him. AH: "Oh, we are going to sound so gushing now!"
TVT: Ha! There must be some 'embarrassing dad' moments too though? DH: "Little Britain! [Anthony played the lusted-after Prime Minister] I was about 15 and all the boys at school jeered when I went in the day after Dad dusted in a thong. That was not a great daughter moment!" AH: "It was actually a cool show to be part of though. But I do remember reading that scene at home and going, 'Ooh, no!' but my wife said, 'Well, that's your job!'"
Girlfriends continues on Wednesdays on ITV at 9pm
Get the What to Watch Newsletter
The latest updates, reviews and unmissable series to watch and more!
Caren has been a journalist specializing in TV for almost two decades and is a Senior Features Writer for TV Times, TV & Satellite Week and What's On TV magazines and she also writes for What to Watch.
Over the years, she has spent many a day in a muddy field or an on-set catering bus chatting to numerous stars on location including the likes of Olivia Colman, David Tennant, Suranne Jones, Jamie Dornan, Dame Judi Dench and Sir Derek Jacobi as well as Hollywood actors such as Glenn Close and Kiefer Sutherland.
Caren will happily sit down and watch any kind of telly (well, maybe not sci-fi!), but she particularly loves period dramas like Call the Midwife, Downton Abbey and The Crown and she's also a big fan of juicy crime thrillers from Line of Duty to Poirot.
In her spare time, Caren enjoys going to the cinema and theatre or curling up with a good book.