Soap star family connections – the actors and actresses who share their DNA!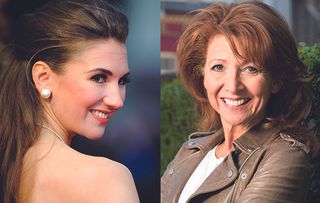 A few of these real life soap relations are well known! Perhaps one or two will take you by surprise...
The soaps are rife with family secrets and sudden sibling revelations; but often the actors who play them have family ties that extend beyond the soaps... like EastEnders Bonnie Langford (Carmel Kazemi) and ex-Hollyoaker Summer Strallen (Summer Shaw) - pictured above.
Soaps, singing and dancing seems to run in the family for the Square's Bonnie, whose niece Summer Strallen has followed in her footsteps… Summer rocked up in Hollyoaks as all-singing-all-dancing student Summer Shaw between 2007 and 2008, before leaving soapland for the West End stage – in real life and on the show.
And did you know that EastEnders star Lacey Turner's little sister Lily Harvey played Shenice Quinn in EastEnders from 2011-2012?
As well, their sister Daisy played tomboy Jenny in Hollyoaks in 2011. Sadly, Jenny exited at the hands of twisted killer Silas Blissett.
Let's look at the other soap stars who share DNA...
Emmerdale's Charley Webb (Debbie Dingle) and Jamie Lomas (Warren Fox) Hollyoaks
Charley's big brother Jamie is best known as bad boy Warren Fox in Hollyoaks, though he moonlighted on Eastenders as Jake Stone before returning to Hollyoaks this year. As for Charley, she's played the role of Debbie Dingle in Emmerdale since 2002...
Did you know their younger siblings Danny Webb and Lucy Webb also appeared in Emmerdale. Danny played the very first Aaron Livesy from 2003-2006 and Lucy played baby Jon Dingle from 2004-2007.
EastEnders actress Laila Morse and Hollywood star Gary Oldman
Laila, who plays Big Mo in EastEnders, and Oscar-winning actor Gary Oldman are brother and sister. OK, it's stretching things a bit to call Gary a soap actor, although he did pop up in the American soap Knot's Landing, but this brilliant family connection was too good to miss out.
Corrie's Brooke Vincent (Sophie Webster) and Ellie Leach (Faye Windass)
Co-stars on Coronation Street Brooke Vincent and Ellie Leach are cousins in real life. Brooke Vincent has played Sophie since she was just 11, while Ellie joined the Corrie cast in 2011 as foster child Faye.
And, despite her best intentions, he managed to get a smile out of her… Romance back on?
EastEnders Jacqueline Jossa (Lauren Branning) and Megan Jossa
Jacqueline, who is Lauren Branning on BBC1's Eastenders, is the older cousin of Megan, who played the daughter of Tiffany and Grant Mitchell, Courtney, in 2006.
Emmerdale's Amy Walsh (Tracy Shankley) and ex Girls Aloud singer Kimberley Walsh
The Walsh family are a talented one. Amy plays Tracey Shankley in Emmerdale, while Kimberley needs no introduction and heir eldest sister, Sally, played Emmerdale's Lyn Hutchinson between 1997-2000.
Hollyoaks Nick Pickard (Tony Hutchinson) and John Pickard (Dom Reilly)
Nick has been in the soap since it first aired in 1995, while brother John played the role of Tony's estranged brother Dom from 2005 to 2010.
Coronation Street's Debbie Rush (Anna Windass) and EastEnders' Poppy Rush (Sophie Dodd)
Poppy, the daughter of Debbie Rush (Anna Windass), joined the cast of EastEnders this year, playing Sophie Dodd, the best mate of Kyle, Stacey Slater's secret brother.
Corrie's Ryan Thomas (Jason Grimshaw) and Emmerdale's Adam Grimshaw (Adam Barton)
Enough said.
Emmerdale's Emily Head (Rebecca White) and Howards' Way star Anthony Head
Emily's famous dad Anthony is best known for his recurring role as librarian Rupert Giles in Buffy The Vampire Slayer. Back in the '80s, however, he starred in soap-y drama Howards' Way as the super smooth Phil Norton. Emily's sister Daisy is also a TV actress - although she hasn't popped up in a soap… yet!
Ex EastEnder Jill Halfpenny (Kate Mitchell) and ex Emmerdale star Chelsea Halfpenny (Amy Wyatt)
Jill, who played undercover copper Kate in EastEnders, is Chelsea Halfpenny's aunt, who starred as teen mum and wild child Amy Wyatt in Emmerdale from 2010 to 2013 and has more recently been seen in Casualty.
Former Corrie star Sue Jenkins (Gloria Todd) and ex Corrie hunk Richard Fleeshman (Craig Harris)
Sue played Rover's barmaid Gloria Todd in the 1980s, while her son Richard followed in her footsteps and was Rosie Webster's boyfriend Craig Harris from 2002-2006.
Get the What to Watch Newsletter
The latest updates, reviews and unmissable series to watch and more!