Ashley Jensen on new Kay Mellor BBC1 drama: It's tears, laughter and celebrations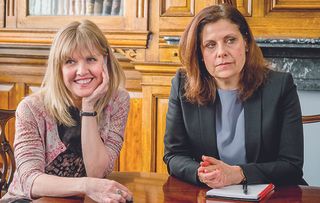 (Image credit: BBC / Rollem Productions)
Extras and Ugly Betty star Ashley Jensen on playing a maverick registrar in Kay Mellor's new BBC1 drama, Love, Lies & Records…
Extras and Ugly Betty star Ashley Jensen is delighted to be headlining award-winning writer Kay Mellor's latest BBC1 drama, Love, Lies & Records.
The six-part series follows Ashley's maverick registrar, Kate Dickenson, as she tries to juggle her personal life with the daily dramas that births, deaths and marriages bring. And things are set to get even more complicated when a disgruntled colleague threatens to expose a secret from her past…
During a break in filming at Dewsbury's Town Hall, TV Times booked an appointment with Ashley Jensen, 48, to find out more…
So, what sets Love, Lies & Records apart from other dramas?
Ashley Jensen: "It's about how other peoples lives affect us all on a daily basis and there's nowhere more dramatic than a register office! Most people have experienced a birth, a marriage or a death at some point and the drama that goes on around it, and the implications that it has on the people that work here. We cover everything – relationships, different cultures, different ethnicities, transgender, same-sex marriages."
Tell us more about Kate's home life…
AJ: "She has a son, Tom, from a previous relationship, a daughter, Lucy, with Rob, her Detective Sergeant partner [played by Adrian Bower], and a stepson, Liam, who is Rob's son. Kate's doing what a lot of women do now – she's trying to juggle family life and being a good mum and a good partner with her work."
How would you describe Kate and Rob's relationship?
AJ: "They do, deep down, love each other, but they're not really finding a great deal of time for one another at the moment, with children pulling them in different directions, wanting dogs and new phones."
Kate is a maverick at work, isn't she?
AJ: "Yes, sometimes the way she goes about things is not necessarily conventional because she follows her heart and is a people person."
We bet that goes down well with her colleague Judy [played brilliantly by Rebecca Front], who's a stickler for the rules!
AJ: "Judy is Kate's nemesis; they work in very different ways. Judy has a rulebook, Kate's thrown hers out of the window. Kate's intuitive and Judy likes to have a bit of order and she finds Kate chaotic, which she sort of is."
Your characters have some fabulous slanging matches, don't they?
AJ: "Yeah, we do! Judy holds something over Kate and has her in a metaphorical vice-like grip. It's something that has to be dealt with that has huge implications on Kate's life and her whole moral code."
Is there more implications for Kate's friendship with colleague Rick [played by Kenny Doughty]?
AJ: (Laughing) "There might be, there might not be!"
What research did you do?
AJ: "We went to Leeds town hall and met these wonderful people who showed us what they did. You've got to be a people person to work in that place, because you're dealing with people who are at their most vulnerable."
Having now played a registrar, is it a job that appeals to you?
AJ: "I can really relate to Kate because I love people, but like Kate, I think I'd get too much involved with everybody's stories!"
Love, Lies & Records starts on Thursday 16th November at 9.00pm.
Get the latest updates, reviews and unmissable series to watch and more!
Thank you for signing up to Whattowatch. You will receive a verification email shortly.
There was a problem. Please refresh the page and try again.