Baptiste finale – Writing brothers Harry and Jack answer SIX massive questions!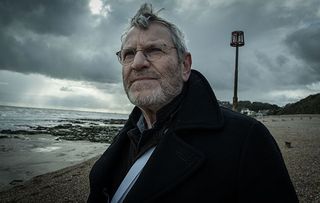 (Image credit: BBC/Two Brothers/Gareth Gatterel)
Expect more massive twists in the last episode of the BBC1 hit...
Writing brothers Harry and Jack Williams promise a thrilling conclusion to Baptiste this Sunday on BBC1.
Here the pair talk about six big mysteries still to be solved in Baptiste…
1. What is Edward up to in Baptiste?
Jack: "Edward is someone that we're constantly questioning and in episode six those questions will be answered. You'll find out once and for all what drives him. The tragedy in his life has defined his choices – many of which have not been the right ones…"
2. Does Genevieve have anything to hide?
Jack: "We can totally trust Genevieve. She has one agenda and she will tell anyone who will listen about it – she wants to catch these people!"
Harry: "There is also personal resolution for her at the end."
3. Who murdered gang member Constantin?
Jack: "We'll never know exactly who killed Constantin [Alex Secareanu], but it was clearly instigated by the Brigada Serbilu. They are brutal and will be sure to drop you like a stone if they consider you a liability."
4. Is Martha really corrupt?
Harry: "That's a hard one to answer! Martha certainly has problems and she'll soon find herself in an extremely difficult position…"
Jack: "It's emotional and the connection between her and Julien plays into the finale in an interesting and exciting way."
5. What's in the locker belonging to transgender former gangster Kim?
Harry: "Kim [Talisa Garcia] has a locker of secrets! She prepared for all eventualities and that'll prove pivotal in the finale."
Jack: "Kim's former life isn't one you can walk away from, so she made plans in case anything happened to her. The information has been passed on to her grieving other half Greg [Trystan Gravelle]. It ties in to why she was killed."
6 Where is the trafficked teenager Cristina?
Harry: "That's the question Edward wants the answer to…"
Jack: "Cristina [Freya Kingsley] is the reason all of this started – she's a stand-in emotionally for his own daughter. It's what has driven Edward to kick-start these terrible things."
Baptiste concludes this Sunday on BBC1 at 9pm.
Get the latest updates, reviews and unmissable series to watch and more!
Thank you for signing up to Whattowatch. You will receive a verification email shortly.
There was a problem. Please refresh the page and try again.