Big Ass Spider! | The hilarious B-movie spoof crawls onto Blu-ray and DVD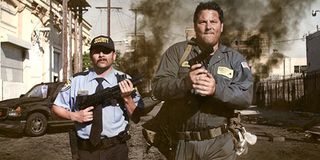 SYNOPSIS Lovelorn bug exterminator Alex (Greg Grunberg) finds himself becoming an unlikely hero when he teams up with hospital security guard Jose (Lombardo Boyar) to take down a 50-ft alien spider rampaging the city of Los Angeles, all the while trying to win the affections of military lieutenant Karly (Clare Kramer).
Big Ass Spider! certainly lives up to its title as a fast-moving, tongue-in-cheek homage to the giant bug drive-in movies of the 1950s, spinning some seriously superior CGI effects, some LOL sight gags, and an endearing turn from former Heroes actor Greg Grunberg. It may not have the monster budget of Eight Legged Freaks or Arachnophobia or have the name Roger Corman (who remains the king of the B's) attached to it, but it certainly holds its own against any of those monster mash up's screening over on Syfy – and the dire Spiders 3D, of course. And if you stay for the credits, there's a possibility of sequel… all together now, 'La cucaracha!'
Big Ass Spider! is out on DVD and Blu-ray from StudioCanal UK
For a chance of winning the Blu-ray, check out our fab competition (CLICK HERE). http://youtube.com/v/BvEL10Ugd4I
Get the What to Watch Newsletter
The latest updates, reviews and unmissable series to watch and more!