Birds of a Feather: 'We owe it all to Mrs Brown!'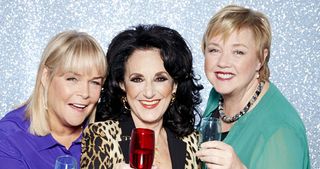 TV Times (opens in new tab) has a chat with the Birds of a Feather ladies, Pauline Quirke (opens in new tab), Linda Robson (opens in new tab) and Lesley Joseph (opens in new tab) about the show's success, what goes on when the cameras are off and their dream guest stars (Thursday, ITV)...
You must be delighted with how well the last series was received?
Lesley: "We're very lucky. I can't think of anybody else who has been in this position where they have come back after 15 years to such great ratings. It really is a unique situation."
Pauline: "To be quite honest with you, we were expecting – not by the public because we saw for two years on the Birds of a Feather tour that they still loved the show – a little bit of 'Bringing things back from the past, it's never going to work'. But the critics couldn't say anything bad because people were watching it. So they said nothing at all, which is fine!"
Did you have any doubts before the first new episode aired that it wouldn't replicate the success of the original series?
Lesley: "We were nervous, weren't we, about whether people would like it?"
Pauline: "Television has changed a lot. When we started Birds in 1989, there were four television channels meaning there was a lot less choice for people."
Lesley: "I think Mrs Browns Boys paved the way back for us, because sitcoms have been edgy with Ricky Gervais and reality sitcoms for example, but this was much more like family fun."
Linda: "It just felt right to bring it back now. I remember sitting watching the first new episode with my family and the kids absolutely loved it. My youngest daughter Bobbie is 18 and she doesn't remember it the first time round, but even if you hadn't seen the last series that we did, it didn't matter because people just liked the characters."
Lesley: "The thing is, these three characters really care about each other and so do the three actresses! And somehow the chemistry just works when you put it on screen. People see real stuff, and that's something you can't bottle, predict or manufacture."
Birds of a Feather has featured on several TV Times covers throughout the years. Do you or does anyone in your family keep a scrapbook of memories?
Linda: "Yes, my daughter Lauren. She has kept everything, and when we came back last year, she was able to supply all the photographs of us throughout the years for the team to use as set dressing. She's got books and books of cuttings. It's really nice to keep."
Pauline: "I've started one actually for my Charlie [Pauline's son Charlie Quirke, who plays Tracey's youngest Travis in the show] filled with all the interviews and pictures he did last year."
We know you get on like a house on fire off-screen, we bet you never stop nattering during breaks in filming!
Lesley: "Honestly, if you heard our conversations, all we talk about is food or the latest things we're buying for the house like a new sofa or something. It's so rock 'n' roll!"
Pauline: "We also do Words with Friends [a Scrabble-style game you play on your mobile phone] – that's reasonably cultured. Tell TV Times how many I points I got for my words this morning."
Lesley: "You're doing quite well – you got 63."
Linda: "Oh my God! Have you beaten Lesley yet?"
Pauline: "No, I'm never going to beat her. I just want to be in the same century as her."
Lesley: "I was playing Janette Tough [better known as Jimmy Krankie] yesterday and scored 200. She sent me a message saying: 'Well done!'"
So, finally, any dream guest stars for Birds?
Linda: "I'd plump for Sean Bean. I'd love Tracey to have a fling with him and a nice bed scene!"
Pauline: "I'd love Curtis Stigers or Victoria Beckham."
Lesley: "George Clooney – I'm so jealous Downton Abbey nabbed him."
Birds of a Feather continues on Thursdays at 8.30pm on ITV.
Get the latest updates, reviews and unmissable series to watch and more!
Thank you for signing up to Whattowatch. You will receive a verification email shortly.
There was a problem. Please refresh the page and try again.