10 Years Ago in the Soaps: Week Beginning August 19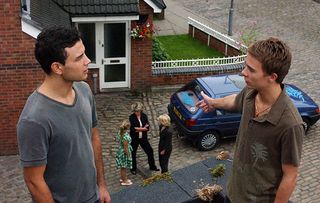 Remind yourself of all the soap drama that was happening in Corrie, Emmerdale, EastEnders and Hollyoaks 10 years ago this week!
This week 10 years ago, David Platt (Jack P Shepherd) was in a murderous mood in Corrie, Marlon Dingle's (Mark Charnock) copper wife Donna dumped him in Emmerdale, Pat Evans (Pam St Clement) had a new man friend in EastEnders and Mercedes (Jennifer Metcalfe) kept Warren out of prison but it cost her her marriage in Hollyoaks
Coronation Street
This was a week of David Platt being at his scary best… He positively terrified Jason Grimshaw (Ryan Thomas) when he climbed up on to the factory roof and said he would shoot his family if he had a gun! At that moment he hated mum Gail (Helen Worth) and sister Sarah (Tina O'Brien) for humiliating him over his non-date with newcomer Mel Morton. They were supposed to be going to the pictures, but Sarah told Mel David is a bit of a psycho and she stood him up. In revenge, David lied that they had slept together and his mum forced him to apologise…in public. Yep. This was a time when David had no love for his family…and Jason could see it!
It was celebration time for Jack (William Tarmey) and Vera Duckworth (Liz Dawn). They were celebrating 50 years of marriage – a milestone it had looked many a time like they wouldn't reach. They celebrated in the Rovers with their friends and their recently reappeared grandson Paul Clayton (Tom Hudson). And it looked like Paul would ruin their happiness when he was seen stealing Jack's identity and the deeds to his grandparents' house to secure a bank loan to buy in to Leanne Battersby's restaurant.
Emmerdale
Very pregnant Laurel Thomas (Charlotte Bellamy) made a welcome return to the village after time spent with her family. Husband Ashley (John Middleton) was very happy to have her back but felt a little bit awkward when they bumped into Emily Kirk (Kate McGregor), who had made a pass at Ashley a few weeks earlier.
The bigger Emmerdale drama this week 10 years ago featured Marlon Dingle (Mark Charnock). He had been roped into helping his brother Eli commit another robbery, this time at The Woolpack! But when it actually came to it, Marlon had flashbacks to when he was shot during their robbery at the bookies and froze. And there was worse… Marlon's police officer wife, Donna, had worked out that it was Eli who had shot him and Marlon had to confess all. Bound by the Dingle code (basically a set of rules that forces the family to protect each other when they break the law), Donna couldn't shop Marlon and Eli – but there was no code to stop her ending her marriage.
EastEnders
Christopher Ellison guest starred in EastEnders this week 10 years ago, playing rocking horse maker Len Harker, who rode to the rescue of Pat Evans (Pam St Clement)… Pat had borrowed a car from Kevin Wicks to go in search of her long-lost sister, who she discovered had been put in a mental institution in Worthing 60 years earlier. But Shirley Carter and Heather Trott hijacked the car at a service station, to get themselves to Brighton. Len saw what happened and gave Pat a lift. But the road they travelled ended in heartbreak as Pat discovered her sister had died a few years earlier.
Garry Hobbs (Ricky Groves) wasn't usually one to let his fists do the talking, but he really couldn't stand the idea of his mum Hazel (Kika Mirylees) being with his best mate, Minty Petersen (Cliff Parisi). And when Minty told him that he and his mum were in love Garry lashed out and smacked Minty in the mouth. Ouch!
Hollyoaks
It was a tense week for Warren Fox (Jamie Lomas) 10 years ago, as he stood trial for the attempted murder of Clare Devine. It was one time when he was innocent – and that was the verdict the jury delivered after Mercedes McQueen testified that she was with Warren at the time of the crime. And when she said she was "with him" she meant they were in bed together…
Having testified so publicly that she had an affair with Warren Fox, newlywed Mercedes McQueen (Jennifer Metcalfe) got home to find that not only was her honeymoon period with husband Russ Owen over, but also her marriage.
Feeling hurt and betrayed, Russ had trashed their room and left Mercedes to try to pick up the pieces of her shattered life.
Get the latest updates, reviews and unmissable series to watch and more!
Thank you for signing up to Whattowatch. You will receive a verification email shortly.
There was a problem. Please refresh the page and try again.