10 Years Ago in the Soaps: Week Beginning January 13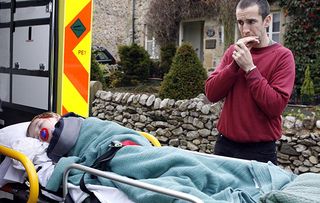 10 Years Ago in the Soaps… Remind yourself of all the soap drama that was happening in EastEnders, Coronation Street, Emmerdale and Hollyoaks 10 years ago this week!
Val Lambert (Charlie Hardwick) caused an accident in Emmerdale, Carla Connor (Alison King) was up to no good in Corrie, Phil Mitchell (Steve McFadden) trifled with Jack Branning (Scott Maslen) in EastEnders and Darren Osborne (Ashley Taylor Dawson) was out in the cold in Hollyoaks - 10 Years Ago in the Soaps…
Emmerdale
Pride came before a terrible accident for Val Lambert in Emmerdale 10 years ago. She was devastated to be told she had age-related cataracts and, when her secret was revealed in front of half the village, she jumped into her car without noticing little Samson Dingle in the road and reversed into him. Panic erupted as the ambulance arrived to rush the unconscious little boy to hospital, his dad Sam Dingle (James Hooton) hovering over him anxiously. Pollard drove Val to the hospital where she faced the wrath of Lisa Dingle. Happily, Samson regained consciousness and, apart from a broken arm and bruising, was fine. Val escaped prosecution but the Dingles were not so forgiving.
The villagers took the Emmerdale dance competition very seriously - it was being judged by twinkle toes Lionel Blair, after all - but when Viv Hope and Diane Sugden's dance partners (Bob Hope and Terry Woods) got tired of being bossed around and walked out on them, the girls were left high and dry. But not for long… Viv and Diane teamed up, waltzed their way through the contest together - and won the impressive trophy, presented by Lionel himself!
Coronation Street
No wonder Carla Connor (Alison King) looked so smug… she was looking forward to going on a business trip with Liam Connor (Rob James-Collier) and had booked a double room for the pair of them. The hotel confirmation had just come through on the computer, so Carla was feeling very pleased with herself. Okay, so Liam was engaged to Maria Sutherland and she was expecting his baby. But was Liam likely to complain? No!
Michelle Connor (Kym Marsh) had some explaining to do and she needed to talk fast 10 years ago this week. Ryan Connor (Ben Thompson) was celebrating his 16th birthday and he had just been told that Michelle wasn't his real mum as he had been swapped at birth with another baby boy. And it was Nick, the 'stalker' who was his real dad, who'd told him… Ryan hadn't believed Nick's story, but one look at Michelle's face confirmed the truth. Michelle assured Ryan he would always be her son, no matter what. But did he believe her and how would this affect their relationship?
EastEnders
Phil's birthday party didn't get off to the best start 10 years ago… the banner said 'Happy 50th' and he was only 47, as he was quick to point out. Peggy had cooked a slap up dinner but with Jack Branning there, it was never going to go smoothly. Ben Mitchell had made a trifle, and done a wonderful job. But, fed up with Jack's smarmy comments, Phil jostled Ben as he was dishing up so some of the trifle plopped into Jack's lap. Phil's moment of triumph was brief, though. Jack trumped him by revealing Phil had sold him Peggy's car lot. Peggy was spitting tacks!
Dawn Swann (Kara Tointon) was a girl spoilt for choice 10 years ago in Albert Square. The chemistry was hotting up between her and Jase Dyer ((Stephen Lord) but then good old Garry Hobbs (Ricky Groves) was hanging around her, clearly besotted. Dawn was confused - should she go for exciting Jase or reliable Garry? Predictably, it was Jase's arms that Dawn - never known for her brains - fell into and they spent a night of passion together. But then she wanted Jase to go to family get-togethers with her, and that was moving way too fast for Jase!
Hollyoaks
Darren Osborne was not his dad Jack's favourite person. He'd gambled away his share of The Dog to dastardly Warren Fox (Jamie Lomas) and, though he insisted his latest business venture would save the pub from Warren's clutches, Jack wasn't convinced. In fact, he was so unconvinced he cast poor Darren out into the world without a penny or a hope and the lad ended up in a homeless shelter! Not very charitable, Jack!
Tina Reilly (Leah Hackett) opened a whole can of worms when she volunteered to be a surrogate mum for her half-sister Jacqui McQueen and her boyfriend Tony Hutchinson. Tina's husband Dom - Tony's half-brother (do keep up!) - was furious when the doctor confirmed she was pregnant and gave her an ultimatum… him or the baby!
Get the latest updates, reviews and unmissable series to watch and more!
Thank you for signing up to Whattowatch. You will receive a verification email shortly.
There was a problem. Please refresh the page and try again.