Don't I Know You? In the spotlight... Malachi Kirby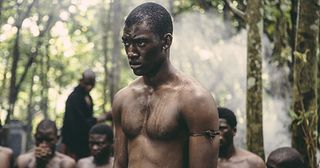 (Image credit: BBC/A+E)
The star is ascending for south London actor Malachi Kirby, who's gone from bit parts in EastEnders in 2014 to lead roles in international co-productions in 2017
If you feel like you know the face of Malachi Kirby, but can't quite place it – that's all about to change.
The former EastEnder actor is about feature in a new adaptation of Roots (BBC4, Wednesday, February 8) and Black Mirror (Netflix)...
The 27-year-old Londoner has been catapulted into the spotlight as the lead in epic slave drama Roots. Based on the prize-winning novel by Alex Haley, which became a sensation when it was adapted for TV in the '70s, the story follows the misfortunes of young warrior Kunte Kinte (Malachi), who was captured in Gambia and sold into slavery to work on plantations in the American south.
"There was a huge weight of responsibility in trying to tell this story again," explained Malachi. "In representing every black [person] that exists, but I'm only me! I'm just Malachi."
https://www.youtube.com/watch?v=zJpkGjErnjI
Malachi also features in Charlie Brooker's dark drama Black Mirror (available to stream on Neflix) in the fifth episode, Men Against Fire. He plays Stripe, a soldier fitted with a mind-altering implant that helps him detect and wipe out a group of sub-humans known as 'roaches'.
https://youtu.be/wT85EXYCp-I
But what else has he appeared in?
Remember Nancy Carter's bling fiance Wayne Ladlow in EastEnders in 2014?
https://youtu.be/plj5LfqMFeg
And in Doctor Who as Gastron in the the series nine finale, Hell Bent?
https://youtu.be/hXOjUO23bD8
Malachi is on Twitter @JustCallMeKirby
Get the latest updates, reviews and unmissable series to watch and more!
Thank you for signing up to Whattowatch. You will receive a verification email shortly.
There was a problem. Please refresh the page and try again.