9 things that will surprise you about Ripper Street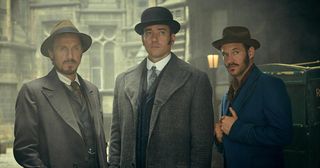 Ripper Street is about to return to BBC2, but how well do you know the Victoria crime drama? Here are nine things that may surprise you...
Matthew MacFayden, Jerome Flynn and the rest of the cast are back for a fourth series of the period crime drama Ripper Street (BBC2, Monday, Aug 22), so we sifted through the streets of Victorian Whitechapel for some juicy trivia.
1 The Real Reid of Ripper Street
Edmund Reid (MacFadyen) was a real detective at the time of the Jack the Ripper murders. A keen hot air balloonist and a talented actor and singer, he was described by Weekly Despatch as 'one of the most remarkable men of the century'. Yet while he was a diligent investigator, physically he bore little resemblance to Matthew MacFayden and at 5ft 6in was the shortest man on the police force.
2 Victorian newspapers
The show's creator Richard Warlow is always on the hunt for 19th century newspapers and magazines, from which he draws the inspiration for the language he uses in his scripts.
3 Pricey pub
The Leman Street police station and The Brown Bear pub, which Inspector Reid, Sergeant Drake and Captain Jackson have all frequented in their darker moments, still exist today. The pub is No. 139 Leman Street and was put on the market for over £2m a few years ago.
4 Inspector Drake on X Factor?
Simon Cowell asked Jerome Flynn, who plays Sergeant Jackson, to be a judge on X Factor when the reality show first started, but Jerome turned him down. The actor knew Cowell from a few years before, when the music tycoon's label released his wildly successful hit with Robson Green, Unchained Melody.
5 The Game of Thrones connection
Jerome Flynn also stars as Sellsword Bronn in HBO's Game of Thrones, yet at the time of writing there are 11 other actors who have appeared in both shows. They are; Ian McElhinney (Barristan Selmy/Theodore Swift), Kristian Nairn (Hodor/Barnaby), Ian Glen (Jorah Mormont/Madoc Faulkner), Clive Russell (Brynden 'The Blackfish' Tully/Chief Inspector Abberline), Anton Lesser (Qybern/Dr Karl Krabbe), Francis Magee (Yoren/Davies), Michael McElhatton (Roose Bolton/Commissioner Monroe), Joseph Mawle (Bejin Stark/DI Jedidiah Shine), Philip Arditti (Goatherd/Marvel), Dean-Charles Chapman (King Tommen/Harry Ward), and Paul Kayne (Toros of Myr/Gabriel Cain).
6 Dublin barracks
Ripper Street is filmed at a rundown Victorian army barracks in Dublin and employed 5,000 Irish cast, extras and crew. It is estimated the production contributed €20m to the Irish economy.
7 Fred Best's confession
Edmund Reid is not the only character from the series who actually existed in real life. Will Frederick Abberline, Jane Cobden and others were also real people. However the most interesting real life character is journalist Fred Best who is thought to have been the man behind the infamous 'Dear Boss' letter sent to the police during the Jack the Ripper investigation and purportedly from the serial killer. Best, played by David Dawson in the show, is supposed to have confessed that he sent it in 1931, in a bid to 'keep business alive'.
8 Ripper Street creator's mistresses...
Showrunner Richard Warlow wrote for BBC1 series Mistresses before Ripper Street was commissioned. American broadcaster ABC decided to make a US version of the series in 2012 and even asked Richard to write some episodes, but he turned them down to concentrate on Ripper Street.
"It was very nice of them to ask," he said. "But the show wasn't really me. I was hired onto that show and contributed the lion's share of the episodes, but it was never really the thing that I was really interested in."
9 Fifth series finale
We all know the BBC cancelled the show due to disappointing ratings back in December 2013, but online service provider Amazon cancelled the show AGAIN this year. Next year's fifth series of the Victorian crime thriller will be the last and writer Richard Warlow has said he wants to end the story at the end of the Victorian era in 1901.Watch out for a big finale.
The fourth series of Ripper Street comes to BBC2 this week and the entire series is available on Amazon Prime.
Get the latest updates, reviews and unmissable series to watch and more!
Feature writer for TV Times, What's On TV, TV & Satellite Week and whattowatch.com
Sean has been writing about all things telly for over 10 years and in that time he's been lucky enough to interview stars like Ian McKellen, Tom Hardy and Kate Winslet. His favourite shows are The Great British Bake-Off, People Just Do Nothing and Succession and in his spare time he enjoys drinking tea, doing crosswords and watching football.
Thank you for signing up to Whattowatch. You will receive a verification email shortly.
There was a problem. Please refresh the page and try again.