Are these the 10 Greatest Red Nose Day Sketches EVER?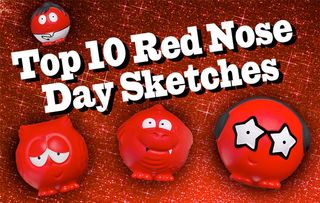 There have been numerous memorable moments down the years from Mr Bean going on Blind Date to Tony Blair being grilled by Catherine Tate's "Am I bovvered?'" Lauren, but which have been the best? Here's our countdown of the top 10 greatest ever sketches from Red Nose Day...does your favourite make an appearance?
It's 32 years strong, and has raised over £1billion for charity. What are the moments that stick in your head, that keep you laughing every time you watch them? Here's our countdown of the funniest sketches Comic Relief (aka Red Nose Day) have provided down the years:
10. The Royle Family Comic Relief special
https://www.youtube.com/watch?v=kdeByu8RIMY
Why it's so good: Only 25 episodes of The Royle Family were ever made, and this special from Comic Relief in 2009 is six minutes of the best. Jim is ill but the family show little sympathy for him, instead sharing how much they have raised for Red Nose Day. It's comedy genius from one of the UK's best ever sitcoms.
9. Peter Kay's "Is This the Way to Amarillo?"
https://www.youtube.com/watch?gl=ID&hl=id&v=yqLLDZvbG-U
Why it's so good: Not so much a sketch, but a music video to promote the official song of Comic Relief in 2005. The re-release of Tony Christie's Is This the Way to Amarillo with Peter Kay miming the song in the video, reached number one in the charts. The video featured numerous celebrities including Ronny Corbett, who even fell off his treadmill near the end of the video. How many star's can you name?
8. Smithy meets the England team
https://www.youtube.com/watch?v=Uq_cwwWcyqQ
Why it's so good: In 2009, members of the England football team sat down to take coaching advice from Gavin & Stacey character, 'Smithy' (played by James Corden). Taking it in turns to receive Smithy's "coaching", he picks on each player individually with the others sniggering away in the background.
7. Graham Norton speaks to Borat
https://www.youtube.com/watch?v=m6_VEYMb4HI
Why it's so good: Borat, the controversial Sacha Baron Cohen character, appeared in a video interview with Graham Norton in 2007 "live from Kazakhstan". Full of awkward answers from Borat, Norton is particularly flummoxed by some of his innuendo-filled responses, and was no doubt relieved when it was over.
6. Mr Bean does Blind Date
https://www.youtube.com/watch?v=qLNhVC296YI
Why it's so good: It's Mr Bean! Looking for love on Blind Date, Bean is lucky enough to be picked, and the camera follows the pair on their date. Bean is at his clumsy best, and needless to say the date doesn't exactly go according to plan.
5. Tony Blair vs. Catherine Tate's Lauren
https://www.youtube.com/watch?v=sfkjvagVsRI
Why it's so good: Lauren Cooper, Catherine Tate's rebellious schoolgirl alter-ego, has made various Comic Relief appearances down the years but in 2007 made her most famous, annoying Tony Blair. A great sketch, ending with the inevitable "Lauren, am I bovvered?" response from the Prime Minister!
4. Little Britain meet Elton John
https://www.youtube.com/watch?v=x0zUOzkHwAE
Why it's so good: Clearly Elton John didn't know what was coming in this one, and it shows. Full of innuendo-packed questions from Matt Lucas's Little Britain character, Daffyd, the "only gay in the village". Brilliantly hilarious!
3. French and Saunders' Harry Potter spoof
https://www.youtube.com/watch?v=9onI92OxBHY
Why it's so good: French and Saunders at their best, but it's the other celebrity cameos that make this one really stand out. Look out for Ronny Corbett as Hagrid and even Basil Brush as Dobby!
2. Ali G meets Posh and Becks
https://www.youtube.com/watch?v=P842Tmi6lrc
Why it's so good: The best sketches are always the most awkward. Ali G didn't hold back in this one, asking Britain's most famous couple questions including: "Does Brooklyn want to be a footballer like his dad, or a singer like Mariah Carey?" It's cringe alert city, this one.
1. Smithy and friends
https://www.youtube.com/watch?v=NW12S4-KB1I
Why it's so good: The sketch that had everything: The Harry Potter cast, Justin Bieber, The Beatles and even PM Gordon Brown dancing to JLS (remeber THAT?!). It was also the sketch that inspired James Corden's Carpool Karaoke skits in the US, when George Michael sung along with Smithy in the car. It was 13 minutes of brilliant Comic Relief fun!
Comic Relief is on Friday 24 March at 7.00pm on BBC1
Thank you for signing up to Whattowatch. You will receive a verification email shortly.
There was a problem. Please refresh the page and try again.