Comic Relief viewers LOVE Kylie and Jason's 'Ghostly' reunion!
Comic Relief brought the fan faves together for a special sketch featuring the stars of Ghosts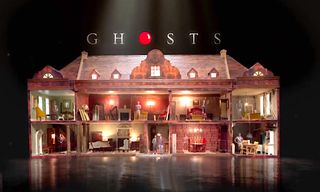 (Image credit: BBC)
Comic Relief viewers were treated to a special appearance from Kylie Minogue when she took a trip to Button House in a sketch featuring the cast of Ghosts.
And Kylie fans were thrilled when the Aussie superstar was reunited with former Neighbours co-star Jason Donovan!
Kylie played herself in the sketch, as she visited Button House with her manager Jess (played by Motherland's Tanya Moodie) to check out the grounds for a music festival.
At first everything seemed normal, with the ghosts firing questions at poor Alison as she tried to impress Kylie.
Caveman Robin wanted to know why Kylie spoke with an accent, and then where Australia was. Fanny was keen to warn everyone to "hide the silverware" because back in her day convicts were deported to Australia!
And the Captain said he felt "drawn" to Kylie's energy!
But because of Kylie's youthful appearance Julian was doubtful she was the real deal.
Alison left the ghosts bickering to take Jess on a tour of the grounds, but as soon as she was away it was revealed Kylie could see the spirits too!
She explained that a bump on the head during the roller skating montage in the Spinning Around video left her able to speak to dead people - just like Alison!
But even so, Julian wasn't convinced.
He demanded proof that Kylie was who she said she was. So Kylie gave Jason a call!
And the fans loved it.
They branded it "great fun" and said they "loved" the cameo from Kylie's former on-screen husband!
But Julian was less impressed!
In fact, he didn't believe Kylie was the real deal until Alison sat down at the piano and played I Should Be So Lucky - and Kylie sang along to entertain the ghosts!
Comic Relief viewers loved the sketch - and Kylie's appearance. One fan said it was "absolutely brill" while another said it was "perfect".
Get the What to Watch Newsletter
The latest updates, reviews and unmissable series to watch and more!
Kerry is a writer, author and editor with a lifelong love of the soaps, a passion for TV drama of all kinds, and an obsessive devotion to Strictly Come Dancing.
She was features editor of All About Soap magazine for more than a decade, covering every bit of excitement from all the UK soaps and the Aussies and still writes about all the juiciest gossip from the Street, the Square and the Dales whenever she can.
Kerry's also an author of historical fiction, and her two jobs collided when she got the chance to write two novels based on Emmerdale, and the Sugden, Tate and Dingle families, during WW2.