17 TV Shows That Were Movie Spin-Offs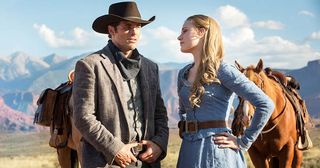 Sky Atlantic's Westworld is just the latest franchise to go from big to the small screen, we take a look at some others to have made the switch
Sky Atlantic's sweeping new drama Westworld (opens in new tab) (Tuesdays) has proved a hit with audiences since hitting our screens last month, with people already comparing the sci-fi western to Game of Thrones.
The TV series, in which the robots in a futuristic theme park go haywire with disastrous results, is actually inspired by the 1973 film of the same name starring Yul Brynner.
In a world where successful TV shows inevitably seem to end up in the cinemas, you could be forgiven for thinking Westworld is alone in bucking the trend, but plenty of other movies have been adapted for the small screen over the years...
Fargo
The Coen Brothers' film noir starring Steve Buscemi and Frances McDormand became a cult hit following its release in 1996 and many fans were up in arms when they heard it was being turned into a TV series.
Yet, with Joel and Ethan Coen serving as executive producers, the 2014 series was a hit and featured acclaimed performances from Billy Bob Thornton, Martin Freeman, Colin Hanks and Allison Tolman (see trailer below).
The second series was met with even greater critical acclaim and scooped a host of golden Globes. Scottish actor Ewan McGregor will star in a highly-anticipated third series next year.
https://youtu.be/gKs8DzjPDMU
Bates Motel
A contemporary prequel to Alfred Hitchcock's 1960 film Psycho and starring Freddie Highmore as a young Norman Bates, this series has proved a hit for US broadcaster A&E. All four seasons have been critically acclaimed and Highmore and Vera Farmiga, who plays his mother, Norma Louise Bates, have been lauded for their performances.
The series begins in Arizona with the death of Norma's husband, after which Norma purchases a motel located in a coastal Oregon town so she and Norman can start a new life. Yet as Norman's mental illness becomes dangerous, Norma struggles to protect her son from himself.
https://youtu.be/KbvR7wu3mpc
Limitless
Set almost directly after the 2011 film of the same name which starred Bradley Cooper, this American series hit TV screens last year, with far less of an impact.
Jake McDorman plays the lead role in the tale of a man who unlocks the full potential of his brain through the use of a nootropic drug that makes him the smartest person on earth. The series was axed after one series.
https://youtu.be/GkhY-s4VSnk
London's Burning
It never appeared on the big screen but ITV's 1986 two-hour TV movie was so popular with audiences that a TV series was immediately commissioned. Following the trials and tribulations of the Blue Watch fire brigade from fictional Blackwall fire station, London's Burning ran for 14 series and was well-loved by viewers.
Watch a trailer for the 1989 Christmas special:
https://youtu.be/lrJEzd0V5Ws
Wolf Creek
This Australian horror web series has attracted much critical praise since its release earlier this year and was soon snapped up by US broadcaster Pop Network (screens in the UK on Fox UK on Tuesdays). John Jarratt, who portrayed serial killer Mick Taylor in the two films, reprises his role for the series.
Buffy The Vampire Slayer
When Joss Whedon first came up with the idea for Buffy, the script for his 1992 movie was praised by Hollywood, although the film itself was slammed by critics. "I had written this scary film about an empowered woman, and they turned it into a broad comedy," said Whedon. "It was crushing."
Yet when the WB Network asked him to reprise his idea for a TV series in 1997, he jumped at the chance to tell the tale as he'd wanted to originally. Sarah Michelle Gellar signed up to play Buffy and the rest is history.
https://youtu.be/-1v_q6TWAL4
Hannibal
Set well before Silence of the Lambs, the Oscar-winning film starring Jodie Foster and Anthony Hopkins, this psychological thriller focusing on a younger Hannibal Lector debuted in 2013.
Starring Mads Mikkelsen as the future cannibal and Hugh Dancy as his nemesis, forensic psychologist Will Graham, the show did well initially, but was cancelled after three series due to poor ratings.
https://youtu.be/Hride8sAhBY
Flipper
This 1963 film about a 12 year-old boy who befriends an injured wild dolphin received good reviews and was popular enough with audiences for NBC to turn it into a TV series, making it one of the ealiest examples of a movie coming to the small screen.
With a few changes, the show ran for three series between 1964 and 1967, achieving respectable ratings. In a strange twist, in the 1970s the show crossed the Iron Curtain and proved very popular with Soviet viewers!
https://youtu.be/azEOeTX1LqM
M*A*S*H
When it finally came to an end after 11 wildly successful years on American TV, the final episode of M*A*S*H was watched by a record-breaking 125 million viewers…
But the hit CBS series, which followed the exploits of the US Army's 'Mobile Army Surgical Hospital' during the Korean War, was based on 1970 film MASH, which won the Palme d'Or at Cannes that year.
Stargate
One of the most successful TV sci-fi franchises ever, Stargate is based on the 1994 film and ran for 10 years from 1997 to 2007, winning a slew of awards. Yet it proved just the beginning, with Stargate Atlantis, Stargate Universe and Stargate Infinity also arriving on our TV screens in the years to come.
https://youtu.be/vqOL_w4yKws
Friday Night Lights
This US drama based on the 2004 film of the same name won rave reviews and established a vociferous fanbase during five seasons from 2006 to 2011. Following the fortunes of a Texas high school football team, The Panthers, the series centres on the team's coach Eric Taylor (Kyle Chandler ) and his wife Tami (Connie Britton) and won a host of Emmys in its final season.
https://youtu.be/FrzvFOvow_Y
Logan's Run
Set in a dystopian future in which all humans are killed when they reach the age of 30 in a bid to preserve the planet's depleted resources, this 1977 spin-off from the successful 1976 film starred Gregory Harrison in the title role.
The series initially had solid ratings, but US broadcaster CBS frequently moved it around in the schedules, which disrupted the audience. The show was cancelled after one series, but was shown in the UK on ITV in 1978.
https://youtu.be/owNi60LLK1c
The Exorcist
Intended as a sequel to the iconic 1973 film, the first series is currently coming to an end in America, but there's no news on a second series yet.
Starring British actor Ben Daniels (Law & Order UK, House of Cards) the series has garnered positive reviews. "The Exorcist doesn't come close to its classic source material," said one critic. "But still boasts a tense narrative that manages some legitimate scares and credible special effects."
https://youtu.be/5NH3ffAp9aA
Damien
Based on hit horror film franchise inspired by 1976 horror film, The Omen, this series follows the adult life of Damien Thorn – the child of Satan – who is now a 30-year-old war photographer, who's forgotten his roots.
The show was cancelled after one series in the wake of terrible reviews. "Damien is a horror series in need of some horror — not to mention better writing and more interesting characters," said one critic.
https://youtu.be/TM4U9MInmhs
Planet of the Apes
After the success of the 1968 sci-fi film starring Charlton Heston and the subsequent sequel, American broadcaster CBS splashed a load of cash on a 14-part series. Yet despite spending a reported $250,000 on each of the 14 episodes, the 1974 series didn't perform well and was cancelled after one outing.
Agent Carter
Comic books have been dominating cinema blockbuster charts for many years now and it was only a matter of time before TV broadcasters realised what a rich seam of revenue such fantasy universes could produce.
Shows such as Daredevil and Luke Cage have made the jump straight from the page to the small screen, but Agent Carter is set after the events of 2011 film Captain America: The First Avenger. British actress Hayley Atwell reprised her role in the movie and starred as the eponymous agent for two series until the show was cancelled earlier this year.
Sean has been writing about all things telly for over 10 years and in that time he's been lucky enough to interview stars like Ian McKellen, Tom Hardy and Kate Winslet. His favourite shows are The Great British Bake-Off, People Just Do Nothing and Succession and in his spare time he enjoys drinking tea, doing crosswords and watching football.
Get the latest updates, reviews and unmissable series to watch and more!
Thank you for signing up to Whattowatch. You will receive a verification email shortly.
There was a problem. Please refresh the page and try again.