Bloodhound co-stars were 'awful' on the set of Sherlock, reveals Amanda Abbington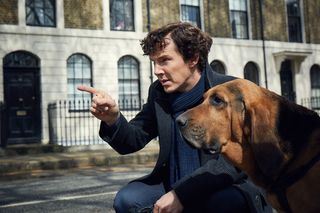 (Image credit: Copyright: Hartswood Films 2016.)
Sherlock star Amanda Abbington has revealed her canine co-stars were useless and embarrassing on set, while another co-star Toby Jones terrified her
Sherlock star Amanda Abbington has revealed how the canine cast of the hit drama sparked trouble on set.
The modern adaptation, starring Benedict Cumberbatch, 40, and Martin Freeman, 45, returns – this time with bloodhounds – to BBC1 on New Year's Day.
But Amanda, 42, who plays Mary Morstan in the BBC1 drama, said the dogs were not co-operative.
Amanda Abbington
The new storyline sees Doctor Watson (Martin) and his wife Mary (played by real-life partner Amanda), prepare for the challenge of becoming parents for the first time.
And Amanda told TV show This Morning that the babies were easier to work with than the dogs.
"The babies were fine, apart from one projectile vomiting on me when I was doing a scene. I was bouncing her up and down a little too much," she said.
"We worked with the worst dogs in the history of canine acting. They were truly awful," she said.
"There were bloodhounds. There's a bloodhound in one of the original Conan Doyle books and (co-creator) Mark (Gatiss) thought it would be a brilliant idea to get a real bloodhound in.
"It really, really wasn't. It was terrible.
"He looks great. He's fantastic to look at," she said of one of the dogs. "But you ask him to do anything, he's like 'Nope'. He sat there.
"He's supposed to be on the scent of a trail. Sherlock goes 'Come on, let's go' and he just lollops, just sits, just flops.
"We were filming in Borough Market. All these people (fans) were watching. I was holding him. I was literally pulling him and I fell over.
"One of the props boys decided to stand in… and I ended up getting pulled by a props boy.
"It was the most embarrassing thing."
Amanda also revealed she had not realised her new co-star Toby Jones, who plays a villain, was in character during their first frosty encounter on set.
She said: "He plays this disgusting person. We were filming and it was his first day. He had a lot of stuff to do. I went up to him, 'Hey, I'm going to get a latte. Do you want one?'
"I thought, 'He doesn't like me' … He told me later he (was in character and) had to be quite menacing and appalling."
Get the latest updates, reviews and unmissable series to watch and more!
Thank you for signing up to Whattowatch. You will receive a verification email shortly.
There was a problem. Please refresh the page and try again.