Blu-ray review | The Car (1977) | The supernatural thriller charges back into town in HD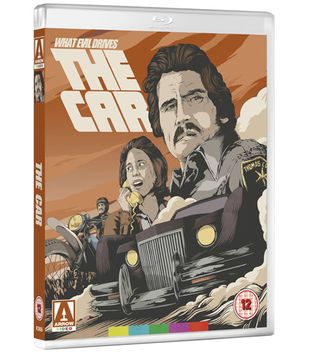 This 'dumb but fun' 1977 demon car movie is a must for your cult movie collection.
THE STORY Roaming the desert highways of the American south-west, a driverless, demonically-possessed car mows down anyone in its path. When it terrorises the residents of Santa Ynez and knocks down and kills the local sheriff, it falls on police Captain Wade Parent (James Brolin) to come up with a plan to stop the killing machine before its picks off more innocent lives.
THE LOWDOWN 1983's Christine is regarded as cinema's definitive demon-car movie, but I have real soft spot for this 1977 supernatural auto thriller.
The original cinema poster read: 'Is it a phantom, a demon, or the Devil Himself?' Actually, it was just a big black car, in this case a custom built 1971 Lincoln Continental Mark III, that kicks up lots of dust and runs down a few people before being turned into a giant fireball with a cartoon demon face appearing out of the smoke.
Director John Landis calls it 'dumb but fun' while Pacific Rim director Guillermo del Toro was so inspired he owns a replica of the car. And what's not to like about a film that fuses Jaws, Duel and The Exorcist in one neat package; stars the ruggedly handsome James Brolin (aka Mr Striesand) from Westworld fame; and features a custom car by the legendary George Barris (he also did the Batmobile for the 1960s Batman TV series).
Director Elliot Silverstein (best known for another film fusion, the 1965 comedy western musical Cat Ballou) also makes great use of the stunning Utah desert-scapes, whose alien-ness is only made more epic by Leonard Rosenman's scorching music score (that sounds very much like the ones he did for two Planet of the Apes sequels).
This is all capped off with one inspired death scene, in which the car, horns ablazing, crashes through a house in the middle of the night, and a spectacular finale set to a reworked, orchestral version of Berlioz's Symphonie Fantastique. When all is said and done, this is one 'turkey' that deserves to be in your cult movie collection.
THE RELEASE The Arrow Video Blu-ray debut features a re-mastered HD print, audio commentary with director Elliot Silverstein, two featurettes featuring special effects artist William Aldridge and actor John Rubinstein, Trailers from Hell promo with an introduction from John Landis, collector's booklet, and reversible sleeve featuring artwork by illustrator Joe Wilson.
http://youtube.com/v/aWL9W6gxqrA
DID YOU KNOW Real-life siblings Kim and Kyle Richards play James Brolin's children in the film. Kim was Prudence in TV's Nanny & the Professor, while Kyle was in Little House on the Prairie. Today, they are better known as Paris Hilton's aunts.
Get the What to Watch Newsletter
The latest updates, reviews and unmissable series to watch and more!