Boxing legend Muhammad Ali dies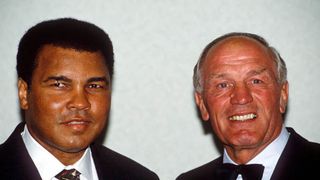 (Image credit: Tony Larkin/REX/Shutterstock)
One of the world's greatest sporting icons, Muhammad Ali, has died at the age of 74, a family spokesman has said.
The former world heavyweight boxing champion, who transcended sport to become one of the most recognisable people on the planet, died in hospital in Phoenix, Arizona, after being admitted on Thursday. He had been suffering from a respiratory illness, a condition that was complicated by Parkinson's disease.
Tributes have flooded in from a raft of celebrities as news of his passing emerged. Former chat show host Michael Parkinson, who interviewed the great man four times, recalled how Ali "had an extraordinary presence. You knew he was in a room without seeing him."
He also revealed that while Ali divided opinion in America in the 1960s, the British people "had always loved him. He was supremely attractive."
But he admitted he had "lost" every one of his sparring interviews with the boxer, who was crowned World Heavyweight Championship three times. During their 1971 interview, Ali quipped: "You're not as dumb as you look" after Parky jokingly commented that he "wasn't going to argue with him".
http://www.youtube.com/watch?v=b-ui9mTPMMY
Ali also had a long-standing friendship with the late British boxing legend Henry Cooper, who famously knocked down Ali, then known as Cassius Clay, in London in 1963 during the first of their two heavyweight fights, both of which Cooper lost.
The pair were later connected with men's aftershave Brut, with Cooper appearing in a series of classic TV adverts exclaiming "splash it all over!".
Born in Louisville, Kentucky, on 17 January 1942, Ali became as famous for his verbal oratory outside the ring as he did for his elegance, bravery and showboating style within it.
Before his fight with George Foreman in 1974 came perhaps one of his most famous quotes: "Float like a butterfly sting like a bee - his hands can't hit what his eyes can't see."
Ali also referred to himself as "The Greatest", a description echoed by the British public when they named him BBC Sports Personality of the Century in December 1999. He won more votes than the other four candidates together.
Collecting his award at a star-studded event that included boxers Lennox Lewis and Chris Eubank, he said: "I'd like to thank the British people for giving me this great welcome and thank you for this award. "Ever since I first came here in 1963 to fight Henry Cooper, I have loved the people of England."
"They have always been extremely warm and welcoming to me… I give thanks to God and to all the people in the UK who have supported me over the years."
The boxing great was diagnosed with Parkinson's in 1984, three years after the last fight of his legendary career. He went on to wage a public battle against the illness — making brave appearances long after the degenerative disorder took its toll on his body and speech.
Barry McGuigan, former world featherweight champion, told BBC Breakfast he felt "sadness, because of how great a human being he was and what he's done for boxing".
"He was just the greatest sportsman that has ever been and we are very lucky that he happened to be involved in our sport. He was a very special man and an amazing humanitarian... he inspired millions of people."
Thank you for signing up to Whattowatch. You will receive a verification email shortly.
There was a problem. Please refresh the page and try again.