EXCLUSIVE: The Broadchurch creator analyses the suspects!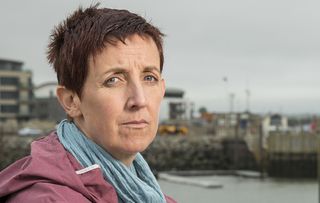 (Image credit: Colin Hutton)
Broadchurch writer Chris Chibnall gives an exclusive lowdown on the suspects in the frame for the rape of Trish Winterman
Nearly every man in Broadchurch been questioned about the rape of Trish Winterman (Julie Hesmondhalgh) over the last seven episodes and as we prepare for next Monday's much-anticipated finale, the hit drama's writer Chris Chibnall rounds up the key suspects and explains what makes them so shifty…
Ian Winterman (Charlie Higson) Trish's estranged husband had programmes installed on her laptop to spy on her, but did the teacher's jealousy lead him to rape? "We know why he has been so obsessed with that laptop, but is he telling the truth about blacking out on the night of the party when Trish was raped?" says Chris. "And why hasn't he been a better husband?"
Clive Lucas (Sebastian Armesto) The creepy cabbie has been contradictory about his movements on the night and his downtrodden wife Charlotte (Sarah Elsey) has discovered he has Trish's keyring, but did he simply pocket that when he and Trish went on a date? "Lucas has a strange collection of trinkets and a tragic marriage," says Chris. "He thinks he's a great liar, but he's terrible, which may be his downfall."
Jim Atwood (Mark Bazeley) The philandering garage owner cheated on wife Cath (Sarah Parish) with Trish, was angry over his thwarted dalliance with a waitress at the party and has no alibi for the previous rapes. But is Cath framing him? "It's a difficult marriage, but I wouldn't trust anything Jim says, would you? Jim's only out to protect Jim, but Cath's only out to protect Cath…" reveals Chris.
Ed Burnett (Lenny Henry) Trish's surly boss has come under suspicion for his deep obsession with her and he had a violent marriage but, as he claims to love Trish so much, would he really harm her? "Ed is a figure with a murky past and present," says Chris. "Is he telling the truth about where he was that night? Why hasn't he come completely clean?"
Leo Humphries (Chris Mason) The cocky young fishing shop worker had access to twine used to tie up Trish, installed Ian's spyware and finally admitted that he was at the fateful party and only lied to avoid getting involved, but he is telling the truth? '"Twine Boy's" alibi has now been broken, but why did he really get his girlfriend to lie about where he was that night?" wonders Chris.
Tom Miller and Michael Lucas (Adam Wilson and Deon Williams) Miller's son and Lucas's stepson have been in trouble for distributing porn, but they still seem to have something illicit on their phones. Are they rapists or did they film the culprit carrying out his terrible act? "Is what's on their phones relevant to the case or is it something entirely separate?" says Chris.
Someone else altogether Arrogant convicted rapist Aaron Mayford (Jim Howick) is (probably!) too obvious to be the villain so could the culprit be an as-yet-unseen stranger or someone who has cleverly remained unsuspected, such as off-beat party venue owner Arthur Tamworth (Richard Hope), frustrated vicar Paul Coates (Arthur Darvill), troubled dad Mark Latimer (Andrew Buchan), Miller's grouchy father David Barnett (Roy Hudd), or, in the ultimate twist, an increasingly bitter Hardy?
"Every male character is a suspect…" teases Chris.
Broadchurch concludes on Monday, April 17 on ITV at 9pm
Get the What to Watch Newsletter
The latest updates, reviews and unmissable series to watch and more!
Caren has been a journalist specializing in TV for almost two decades and is a Senior Features Writer for TV Times, TV & Satellite Week and What's On TV magazines and she also writes for What to Watch.
Over the years, she has spent many a day in a muddy field or an on-set catering bus chatting to numerous stars on location including the likes of Olivia Colman, David Tennant, Suranne Jones, Jamie Dornan, Dame Judi Dench and Sir Derek Jacobi as well as Hollywood actors such as Glenn Close and Kiefer Sutherland.
Caren will happily sit down and watch any kind of telly (well, maybe not sci-fi!), but she particularly loves period dramas like Call the Midwife, Downton Abbey and The Crown and she's also a big fan of juicy crime thrillers from Line of Duty to Poirot.
In her spare time, Caren enjoys going to the cinema and theatre or curling up with a good book.