'Buttons changed my life!' reveals Count Arthur Strong star Rory Kinnear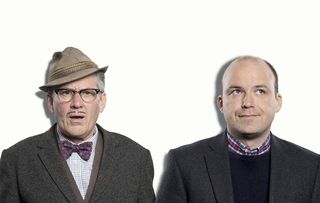 (Image credit: BBC/Fremantle)
Count Arthur Strong star Rory Kinnear reveals how a panto role salvaged his career after it almost foundered at primary school
As the son of a celebrated comic actor, Rory Kinnear has always leaned more towards dramatic roles in order to carve out his own niche. However in the sitcom Count Arthur Strong, which is back for a third series, he gets to show that, like his late dad Roy, he can be very funny.
"I love doing comedy," said Rory, who's appeared in three Bond movies and starred in TV dramas Southcliffe and Lucan. "My interest probably lay initially in straighter roles, but I guess maybe that was a good thing, in that people didn't think: 'Oh, here comes another funny Kinnear.'"
In Count Arthur Strong, Rory plays long-suffering writer Michael, whose life is frequently turned upside-down by retired music hall performer Arthur, played by Steve Delaney.
In the first episode, Michael lives to regret introducing Arthur to his literary agent when the resulting chaos includes an exorcism, some crème de menthe – or 'minty oblivion' as Arthur calls it – and an unfortunate incident involving a ventriloquist's dummy.
"Arthur's cantankerous, rude and greedy, and yet he seems to inspire great loyalty among the people around him," Rory explained. "I am there to reflect how the ordinary person would respond to him."
Watch a clip from Count Arthur Strong:
The 39-year-old added that it was nice to be appearing in a family-friendly show that his children can enjoy.
"It's comedy that everyone can watch together," he said. "My son sometimes points at people in the street and says: 'Is that Arthur?' And I have to tell him that Arthur doesn't actually exist!"
The first time Rory made an audience laugh was while appearing in a school play – and the experience nearly put him off acting for life.
"Something went wrong, and all the parents laughed at me," he recalled. "I vowed that would be the last time I ever performed in front of an audience!"
Fortunately Rory was enticed back onto the stage to play a leading role in a pantomime. "I was coaxed into the role of Buttons," he revealed.
"This time people were laughing at me for the right reasons, and I got a buzz out of it. I guess the Sun headline would be: 'Buttons changed my life!'"
Count Arthur Strong returns to BBC1 on Friday, 19 May at 8.30pm
Get the latest updates, reviews and unmissable series to watch and more!
Thank you for signing up to Whattowatch. You will receive a verification email shortly.
There was a problem. Please refresh the page and try again.