Radio waves – the wireless comedies that became top TV shows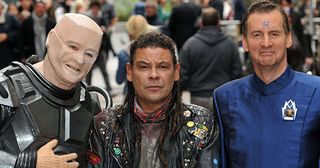 (Image credit: Nils Jorgensen/REX/Shutterstock)
From Red Dwarf to Little Britain and Flight of the Conchords, read about the top TV shows that started life on radio
After a four-year break from our screens, cult sci-fi sitcom Red Dwarf returns to TV in September for an all-new six-episode series on Dave.
Amazingly, it's been more than 28 years since the very first episode of the cosmic comedy aired on BBC2 in February, 1988. The show moved to Dave in 2008, with the same four actors – Chris Barrie, Craig Charles, Danny John-Jules and Robert Llewellyn – playing the main characters to this day.
Despite its long TV history, what most people don't know is the show was borne from a regular sketch, Dave Hollins: Space Cadet, included in the weekly BBC Radio 4 comedy series Son of Cliché as far back as 1984.
Here, as well as taking a closer look at Red Dwarf, we feature four more of our favourite TV shows that originated on radio, all of which are suitable for delicate ears and eyes…
1. Dave Hollins: Space Cadet on BBC Radio 4
http://www.youtube.com/watch?v=2clseRGGkVE
Written by Rob Grant and Bob Naylor, the sketches recount the adventures of hapless space traveller Dave Hollins (voiced by Nick Wilton (opens in new tab)), who is marooned in space trillions of miles from Earth. His only steady companion is the computer Hab (voiced by Chris Barrie (opens in new tab), who went on to play hologram Arnold Rimmer in Red Dwarf). The sketch was inspired by the 1974 American sci-fi comedy film Dark Star.
Red Dwarf on TV
http://www.youtube.com/watch?v=IoHhim3CF0A
In the TV series, Barrie takes on the character of Arnold Rimmer, who is resurrected as a hologram after causing the disaster that kills all but one of the ship's human crew. Craig Charles plays the sole survivor, lowest ranking crew member and self-confessed 'bum' Dave Lister, with Robert Llewellyn as servant mechanoid Kryton and Danny John-Jules as a highly evolved descendant of the ship's cat, aptly named Cat!
2. Count Arthur Strong on BBC Radio 4
http://www.youtube.com/watch?v=NqAONkUJDDI
From it's humble BBC Radio 4 beginnings in 2005, Count Arthur Strong's Radio Show always had the promise it would translate to a popular TV sitcom. Writer Steve Delaney stars as the tongue-tied Count Arthur Strong, a semi-retired music hall performer who has delusions of grandeur… and memory loss! The radio show ran for seven series, with several one-off specials, and in 2009 was awarded the Gold Sony Radio Academy Award for comedy.
Count Arthur Strong on TV
http://www.youtube.com/watch?v=y_hgPdB8ll4
The TV adaptation of Count Arthur Strong, still starring Delaney (this time co-writing with Father Ted creator Graham Linehan), premiered on BBC2 in 2013. Thanks to its immediate success, a second series was commissioned and it was promoted to BBC1 for broadcast in 2015. A third series is in production, which is likely to be screened late in 2016.
3. Little Britain on BBC Radio 4
http://www.youtube.com/watch?v=1FAkZt8KGZs
David Walliams and Matt Lucas created Little Britain for radio in 2000, and within two years it became clear the sketch show – featuring Walliams and Lucas voicing exaggerated parodies of British people from every walk of life – had the potential to become a TV favourite.
Little Britain on TV
http://www.youtube.com/watch?v=gITqv-VRkoI
Little Britain's switch from radio to the newly launched digital channel BBC Three in February 2003 was an instant success and repeats were soon being screened on BBC2. Like the radio show, from which much of the material and many of the characters were adapted, it again starred Walliams and Lucas.
The show ran for four series, followed by a two-part Christmas special in 2006 and a Little Britain USA special in 2008.
4. Knowing Me Knowing You with Alan Partridge on BBC Radio 4
http://www.youtube.com/watch?v=ZSpGU55BtWQ
Comedian and actor Steve Coogan created the hapless and now iconic Alan Partridge for spoof radio show On The Hour, but the annoyingly smug Norwich-based character soon commanded a series of his own.
A series of six radio shows were broadcast from December 1992 before the decision was made to transfer it to TV. The title of the show, Knowing Me Knowing You, comes from the ABBA song of the same name, with ABBA being Partridge's favourite band.
Knowing Me Knowing You with Alan Partridge on TV
http://www.youtube.com/watch?v=mfTMzXPpcSE
Like the radio series, Knowing Me Knowing You with Alan Partridge stretched to only six episodes on TV, the first of which screened in September 2004. In 1997, the show spawned two series of the sitcom I'm Alan Partridge, which followed Alan's life as a radio presenter after both his marriage and TV career came to an abrupt end.
The character has cropped up several times on TV over the years and Coogan also starred in the 2013 film Alan Partridge: Alpha Papa.
5. Flight of the Conchords on BBC Radio 2
http://www.youtube.com/watch?v=rJI_ypXka58
Looking beyond British horizons, when the BBC signed up two-man New Zealand comedy band Flight of the Conchords (Bret McKenzie and Jemaine Clement) for a 2004 radio series, interest was sparked in the United States. The radio shows – a mixture of music and comedy – were largely improvised and centred on the band's search for commercial success in London.
Flight of the Conchords on American TV
http://www.youtube.com/watch?v=_Vmlj3c3bcM
American cable channel HBO saw the potential to turn Flight of the Conchords' radio story into a TV comedy series, this time with the band attempting to find commercial success in New York. The show's first season, which premiered in June 2007, was nominated for an Emmy for Best Comedy.
It was recommissioned for a second season in 2009. Now absent from our TV screens, Bret and Jemaine have been on a major tour of US cities this summer.
Get the latest updates, reviews and unmissable series to watch and more!
Thank you for signing up to Whattowatch. You will receive a verification email shortly.
There was a problem. Please refresh the page and try again.