"I was buzzing at the end of filming" says This Time Next Year host Davina McCall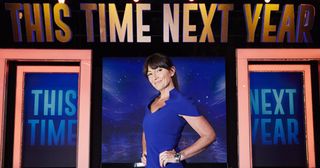 (Image credit: Matt Frost 07739 392412)
Davina McCall has a new show and set of inspirational stories that will warm your heart
So Davina, tell us more about This Time Next Year… "It's like watching a makeover show because people are making pledges about how they want to improve their lives. We're filming the transformations next week and I don't know if they've succeeded as I've asked not to be told too much. I will see them when they come out and find out what has happened in real time. Some might not have worked out – a lot can happen in a year..."
Was it strange filming the pledges knowing that you'd have to wait a year to see the results? "Yes, it was really weird. We filmed all the interviews back-to-back over three days and at the end I thought, 'This is good'. The reason being that I couldn't wait to find out the results. I'm quite jealous that you guys get to watch it in an instant - I've had to wait an entire year to find out what happens in these people's lives!"
Did you find it emotional filming the pledges? "I thought it was going to be the most exhausting, harrowing experience but actually I was buzzing at the end of each day. It was good getting to know these people and it all felt very positive. We all want to do things in the next year or change something about ourselves but when you make a public declaration, it spurs you on a lot more to actually do it. As you probably know by now, TV Times, I love talking to people and love finding things out. [Davina mock whispers in our ear] It doesn't really feel like work but don't tell them that because they'll want to slash my salary!"
Do you hope viewers will be inspired to set their own goals? "Yes, especially with the weight-loss stories. I'm hoping we'll see some dramatic changes. I phoned a few people halfway through because I know with diets you lose a certain amount, then hit the wall and slack off. I said to them: 'Don't give up, you can do this, I've got your back, come on!' Meanwhile, the ones you can't identify with on a personal level are so moving and intense."
Such as...? "There's a woman who has a leg injury following an accident, which has left her with non-stop, searing pain. She is wheelchair-bound and her pledge was to have her leg amputated. There's also a lovely couple, who have had one child but the woman develops tumours very easily and during her first pregnancy she developed one which left her blind in one eye. It just wasn't safe for her to try for another baby so they found a surrogate. Imagine, they might walk out the door with a baby! Wouldn't that be lovely?"
You also present heartbreaking hit Long Lost Family. What is it you love about these type of stories? "They're feelgood. When I started in TV, for a long time it was sort of mean telly – 'You're the weakest link, goodbye' – and everybody loved all the baddie judges on the talent shows. I feel like I've found a niche working on things that are lovely with nice stories and where everybody is happy."
Have you ever set yourself a similar challenge to complete within a year? "Yes, physical challenges are my thing. My Sport Relief challenge [Davina completed a gruelling 500-mile triathlon over seven days in 2014] was my biggest one, I had three months to get ready for that. We should all be setting little goals that we can achieve because they make you feel good about yourself."
As the queen of exercise DVDs, you always come across as a highly-motivated person. But do you ever find it hard to get yourself going? "Yeah, sometimes I do. I had a summer of excess, and now have a few pounds to shed. I took my foot off the pedal, but I didn't give myself a hard time because we were on holiday. Now I'm motivated again to get fit and healthy again because it makes me feel better. But I'm not always super motivated – I definitely slob out sometimes in my PJs and watch films!"
Finally, what's next for you? "I'm currently filming the next series of Long Lost Family, which will be back next year. I'm excited about it – the stories are, again, so interesting – and Nicky [Davina's co-host Nicky Campbell] has already been around the world a few times. I'm also in discussions about something exciting I want to do, so keep your eyes peeled"
This Time Next Year continues at 8pm on Wednesday on ITV
Get the latest updates, reviews and unmissable series to watch and more!
Thank you for signing up to Whattowatch. You will receive a verification email shortly.
There was a problem. Please refresh the page and try again.