Callum Woodhouse: Leslie gets a big baby shock in The Durrells!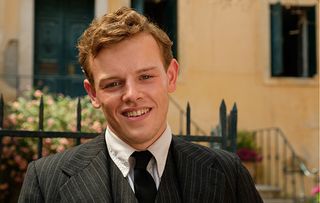 Leslie Durrell has a huge surprise in this Sunday's episode, reveals Callum Woodhouse, who plays him
Leslie Durrell has a big surprise in store. His womanising ways were never going to end well in ITV hit The Durrells.
At the end of last week's episode we saw him turn over a new leaf and swear his heart to just one girl. But unfortunately for Leslie, that's not the girl who claims to be carrying his baby…
It's a big shock for the boy who up to now has spent most of his time sulking with his sister and brothers or playing with guns.How will he react to his new responsibilities? And what will his mum, Louisa (Keeley Hawes), have to say about the prospect of becoming a grandmother?
TV Times caught up with Callum Woodhouse, who plays Leslie Durrell, on set in glorious Corfu to find out more about his most challenging storyline yet…
There's a shock in store for 20-year-old Leslie this week when he discovers he might be on the cusp of fatherhood. It's a lot for him to take in, isn't it?
Callum Woodhouse: "Yes it is. Unfortunately for him it's Daphne, the bombastic ex-girlfriend he had lots of shouting matches with, who is the one that says she's pregnant, not the girl he loves. It all blows up around him this episode, he's facing things he shouldn't be dealing with at such a young age, and we're going to see him mature a lot and do some growing up. Daphne's father is very insistent that Leslie marries his daughter, but he doesn't really feel he loves her enough to do that."
Leslie with ex girlfriend Daphne
Does Leslie turn to his mum, Louisa, for support?
CW: "Yes, he's always been a mummy's boy but this is when he needs her the most, and she's definitely there for him. I've had some really nice scenes with Keeley this series, where you'll see a more sensitive, emotional side to Leslie. Louisa's always there to help pick up the pieces and give him a hug."
Leslie is a hit with the ladies after a lot of heartbreak last year… It must be a nice change of pace for you?
CW: "He's like the Casanova of Corfu! I find the romantic scenes quite tough because there are certain lines he tells the girls that I'd never say and I'm delivering them, thinking, 'My mates are all going to see this!' My girlfriend just told me to imagine her when I'm doing all those scenes."
What else is happening for Leslie this series?
CW: "He gets approached to be a policeman and there's an amazing scene we did where I imagine myself in the job and start running round outside the house pretending to do a police siege – it's really funny."
So is this a new career for him?
CW: "Yes, he's got himself a proper job and he's very happy with it. To be a police officer you have to be level-headed and tolerant of other people, which isn't something you would necessarily go to Leslie for, but it's his favourite job ever. He also gets an amazing police partner called Filimonas, played by Vasilis Papadimitriou. He's brilliant and some of their scenes are so funny."
Do you have many scenes with the animals this year?
CW: "Not as many as last year because Leslie's got more stuff on his mind. I really enjoyed it in series two though, I learned how to milk a goat, which is an invaluable skill – you never know when that's going to come in handy!"
The Durrells continues this Sunday on ITV.
Get the latest updates, reviews and unmissable series to watch and more!
Thank you for signing up to Whattowatch. You will receive a verification email shortly.
There was a problem. Please refresh the page and try again.