Campbell's Kingdom (1957) | Blu-ray review – Dirk Bogarde cuts a rugged hero in the Hammond Innes adventure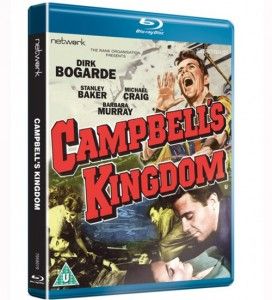 Rugged Wildcatters...Fighting the Treacherous Might of the Canadian Rockies!
Dirk Bogarde turns rugged adventurer in this colourful 1957 British adaptation of Hammond Innes' best-selling novel, set in the Canadian Rockies.
As Bruce Campbell, a courageous, but terminally-ill, Englishman who believes there's oil on his late grandfather's land, the Rank matinee idol cuts a dashing and believable hero, but it's Stanley Baker who really steals the show as the villainous contractor, Owen Morgan, when he threatens Campbell's claim with his hydro-electric dam scheme. (He also sports the campest red shirt, similar to what Joan Crawford wore in Johnny Guitar).
Ernest Stewart's Eastmancolor cinematography of the mountainous landscape (with the Italian Dolomites standing in for the Rockies) is gorgeous to look at, and Ralph Thomas's brisk direction and well-staged action scenes keeps things moving – while the wholly British cast are a comfortable treat: with Barbara Murray playing Bogarde's love interest (and bringing a tear to the eye in one very emotional scene), James Robertson Justice playing a burly Scottish driller with a weird accent, and Sid James appearing (he does very little) as an American trucker. Playing Bogarde's kindly aunts are vets Mary Merrall (Dead of Night) and Athene Seyler (Night of the Demon) - they're hysterical.
THE UK BLU-RAY Campbell's Kingdom is featured in a high definition transfer made from the original film elements (which comes off a little grainy at times), in its as-exhibited theatrical aspect ratio, and includes an original theatrical trailer and four image galleries, including behind-the-scenes and publicity shots.
Available on Blu-ray in the UK through Network Distributing http://youtube.com/v/tIsgpGaseF0
Get the latest updates, reviews and unmissable series to watch and more!
Thank you for signing up to Whattowatch. You will receive a verification email shortly.
There was a problem. Please refresh the page and try again.