Car Share star Sian Gibson on guesting in Death in Paradise: 'Working in the Caribbean really couldn't be more different to filming in a Fiat in rainy Salford'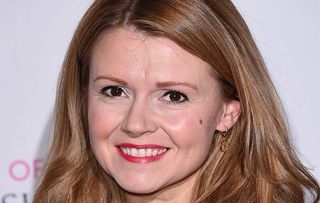 (Image credit: David Fisher/REX/Shutterstock)
Sian Gibson on going from Car Share to her upcoming guest spot in Death in Paradise
Three years ago Sian Gibson was working in a call centre in Chester. After a few small telly roles, and a string of frustrating auditions, she'd given up her dreams of acting. Then an old friend from university emailed her a script and everything changed…
That friend was Peter Kay and the script was the bare bones of BBC1 comedy, Car Share, originally conceived by Sian and Peter's mutual friend Paul Coleman. Together they reworked the script, re-developed the characters and, despite Sian's fears it would be a flop, created one of the biggest sitcoms of the decade.
Now life is very different for Sian. Besides playing effervescent supermarket worker Kayleigh opposite Peter, she's busy playing roles outside of the famous red Fiat.
The latest is a suspect in hit BBC1 crime drama, Death in Paradise, in which Sian joins the star-studded guest cast in an upcoming episode, playing a wannabe author whose mentor is brutally murdered.
Here, Sian Gibson, 41, tells TV Times all about the episode and why she's delighted to be reunited with Ardal O'Hanlon in Death in Paradise after a very awkward audition together…
So Sian, what can you tell us about your character and how she's involved with the murder in the episode?
Sian Gibson: "Gilly is an aspiring writer and the biggest fan of novelist Frank O' Toole [James Faulkner], who lives on Saint Marie. She has moved from the UK to live with Frank and his wife Valerie, and work as his research assistant. Gilly is completely in awe of Frank and is flattered with the attention he gives her.
"After a boozy dinner party at the house with Larry, Frank's agent [played by Simon Callow], Gilly is with Valerie and Larry when they find Frank's body washed up on the beach. Due to her unique relationship with Frank she is automatically one of the suspects."
Sian Gibson guesting in Death in Paradise
Did you have many scenes with the regular cast and did you know any of them already?
SG: "I had a few scenes with them, which was very exciting. I had briefly met Ardal before at a really disastrous audition where I had completely lost my voice. In hindsight I should have stayed at home in bed as all I could do was squeak, but Ardal was very kind and understanding. I was absolutely mortified and needless to say I didn't get the job. I never imagined I would be working with him in the Caribbean a year later."
What was it like filming in Guadeloupe?
SG: "Oh it was amazing. How fabulous to be able to have a walk down the beach every morning before work, and as we were all at the same hotel, it was even nicer to have cocktails on the beach after a long sweaty day on set. We also went on a brilliant boat trip and drank rum punch in the middle of the ocean. It really is a beautiful island, I met the most wonderful people and I have the loveliest memories."
Were you a fan of Death in Paradise before you got the role?
SG: "Yes it's a great show – everyone needs a bit of sunshine and murder in the cold winter months. My family are massive fans and would not have forgiven me if I hadn't taken the job."
Who are your favourite TV detectives?
SG: "Other than Ardal's DI Jack Mooney, my all time favourites are Bruce Willis and Cybil Shepherd in Moonlighting! I'm showing my age there."
Did you get a taste for crime drama after working with Jonny Vegas on UKTV's recent spoof Murder on the Blackpool Express?
SG: "Well there was a huge difference going from Guadeloupe to Blackpool, but I loved both jobs equally. Crime drama is very exciting even though Murder on the Blackpool Express didn't take it quite so seriously."
We're excited that Car Share is returning later this year for two more episodes (the big finale plus an unscripted special). Can you tease anything about what's to come?
SG: "Obviously I can't tell you anything about the finale, it's been hard enough to keep it a secret for so long as it is! I couldn't wait to have a go at something completely different when I filmed Death in Paradise, and working in the Caribbean really couldn't be more different to filming in a Fiat in rainy Salford."
Where will we see you next?
SG: "I have got a few exciting new things coming up, and I'm back to comedy again. I love my job and how different each new role can be so I'm happy to take each new job as it comes."
Sian Gibson guest stars in Death in Paradise on Thursday 18th January.
Main image: David Fisher/REX/Shutterstock
Get the latest updates, reviews and unmissable series to watch and more!
Thank you for signing up to Whattowatch. You will receive a verification email shortly.
There was a problem. Please refresh the page and try again.