Death in Paradise star Ardal O'Hanlon - It's still daunting following in the footsteps of Kris Marshall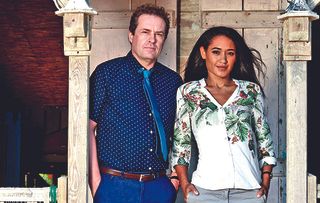 (Image credit: BBC/Red Planet Pictures/Denis Gu)
Ardal O'Hanlan reveals all about Death in Paradise Series 7, which begins on BBC1 on Thursday 4th January at 9.00pm
Filming in the Caribbean should be a breeze, but this year the cast and crew were forced to prepare for hurricanes, as the isles of Guadeloupe faced a natural disaster during filming for Death in Paradise Series 7
It was a dramatic challenge for everyone involved, not least of all new leading man Ardal O' Hanlon, who took over from Kris Marshall at the end of last series and was still getting to grips with island living.
Here Ardal, 52 and co-star Josephine Jobert, 32, who plays Florence, share their memories of being caught in the eye of the storm, and reveal what viewers can expect in Death in Paradise Series 7
What's in store for Jack and Florence in Death in Paradise Series 7?
Ardal O' Hanlon: "We're going to see Jack finding his feet, his daughter, Siobhan, leaves very early on, she goes to university in the UK and it comes as a bit of a bombshell to Jack, he's not expecting it at all. So he throws himself into his work and relies very heavily on his team, he and Florence develop a warm friendship."
Josephine Jobert: "There's nothing very new for Florence, she's really into her job and she doesn't have time for a love affair. She's trying to make Jack more comfortable because he's new on the island and she wants it to feel like home. She tries to create a new family for him at work."
Have there been any action scenes?
AOH: "Yeah there's a little bit of running involved! I think we all know it's not The Bourne Identity, but I do get to kick a door down and I've always wanted to do that – most of my ambitions in life are now ticked off…"
JJ: "On the other hand, Florence chases after a suspect and ends up breaking her leg!"
How are you settling in, Ardal?
AOH: "It was great baptism being in the last series, so I could come over for a few weeks and get familiar with the island, meet everyone and see how the show works, but it's still daunting following in somebody else's footsteps. Kris [Marshall] did such a great job and the show is so popular. I have to try to bring something a bit different to it without losing any of the great qualities the show already has. I love the job though, it's thrilling."
Ardal has taken over as leading man from Kris Marshall
Have you had much of a chance to explore Guadeloupe?
AOH: "Oh it's great, there's so much to do. I'm not an outdoorsy person but I went hiking in the rainforest and felt very manly by the end! I love the water too, even though we're surrounded by the sea in Ireland it's generally too cold to leave the house, so being able to frolic around in the sea on jetskis and swim with the turtles was a real novelty. My wife and kids came out during the school holidays and they had a great time. I went abseiling with Tobi [Bakare, who plays JP] too! I've been teaching him about life…"
JJ: "He and Tobi are besties! I'm a bit boring, I go to the gym very regularly and I have to drive 45mins to get there. Apart from that I don't really go out, I don't drink or party and it's not easy learning lines in a second language! I just watch TV series and during the weekends I sleep and just lay in the sun on my veranda all day long, like a lizard. I invited a few people over to my house at the end of the shoot and my parents came to visit. Initially they came for a month but then my stepfather got a job as a driver on set, so they stayed for an extra month too, it was really precious to have them there."
Has the heat been as punishing as ever?
AOH: "For me the heat isn't that bad, it's more trying to sleep with the rum sloshing around inside your head and the crickets and the frogs bleating all night like car alarms!"
JJ: "People think you're on holiday but it's a real job! We wake up at 5am and finish when it's dark so you can't get to the beach after work. But of course it's a blessing to film in such a beautiful place."
This series filming had to be stopped as Hurricane Irma raced towards Guadeloupe. That must have been scary?
AOH: "I suppose in the back of our minds we always knew there was the possibility of a severe storm at some stage, what we weren't expecting was three of the biggest hurricanes ever recorded. It was frightening but we always felt safe. We paid a lot of heed to the hurricane warnings, which are quite precise."
JJ: "We stopped filming the day before it came. We were a bit worried because we saw what happened on the island of St Martin, it was completely devastated by Irma. But in Guadeloupe people were quite quiet and calm, we went to the grocery store to buy some extra water and food and everyone seemed organised. I think my friends at home were more frightened as they had seen it on the news."
Where were you on the night the hurricane hit?
JJ: "I was in the villa I stay in – it started at 6pm and ended at 8am and we had to stay inside. I only slept for about an hour because the wind and rain were so loud, your mind goes crazy."
AOH: "When the hurricane actually comes you feel like you're in a barrel going over Niagara Falls, there's such a howling wind and the roof is made of corrugated iron, so it is quite a cacophony. Then you start worrying, not about your immediate safety, but whether there's going to be power the next day, can you get fresh food? How long is it going to last, will you have to shut down filming forever? But the electricity survived and we were back up and running at work within two days. It makes you very conscious that nature is volatile, but we were dead lucky – we escaped the worst of it by a whisker."
Death in Paradise returns on Thursday January 4th on BBC1 at 9.00pm.
Get the What to Watch Newsletter
The latest updates, reviews and unmissable series to watch and more!