Carol Vorderman reveals depression battle: 'The only reason I didn't do anything was because of my children'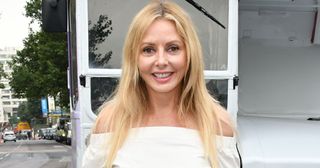 (Image credit: Nils Jorgensen/REX/Shutterstock)
TV personality Carol Vorderman told Lorraine how low her menopausal depression brought her in 2015
Presenter Carol Vorderman did not 'see the point in carrying on' as she battled depression during the menopause.
The former Countdown star, 56, said she struggled with 'a blackness' for several months in 2015 and admitted the only reason she 'didn't do anything' was that she has two children.
She said on ITV's Lorraine: "This depression hit me and I don't use the word depression lightly, this was a blackness where I would wake up.
"Nothing else in my life was going wrong, I'm a very lucky woman, no money worries or nothing like that and I would wake up and I thought, 'I don't see the point in carrying on. I just don't see the point in life. I don't see it'.
"And there was no reason to feel that way and the only reason I didn't do anything, and I've not admitted it before, is because I had two children."
Carol went on: "I thought, I just want this feeling to stop, I'd do anything for this feeling to stop because I can't sort it. And this went on for a number of months."
When host Lorraine Kelly asked Carol what she thought may have happened if she had not received treatment, she replied: "I suspect we wouldn't be talking today."
Carol sought help after realising her feelings could be linked to her hormonal cycle and was given medication.
The star, who revealed in March that her mother has terminal cancer, said: "From the moment I took it (the medication) I have never ever felt that way.
"I've been fed up, and obviously at the moment my mum is not well so I'm upset.
"But there is a reason for all of those things whereas before there was no reason for it and it was absolutely, categorically to do with hormones."
Lorraine screens on ITV at 8.30am on weekdays.
Get the latest updates, reviews and unmissable series to watch and more!
Thank you for signing up to Whattowatch. You will receive a verification email shortly.
There was a problem. Please refresh the page and try again.