Catweazle star Geoffrey Bayldon dies, aged 93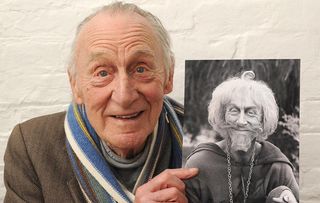 Star of 70s family comedy fantasy series Catweazle, Geoffrey Bayldon, has passed away after suffering respiratory problems
Catweazle actor Geoffrey Bayldon has died at the age of 93.
The owner of the Catweazle Fan Club, who was close to the British-born star, said he died peacefully at his home on Wednesday after battling respiratory problems.
A statement released by the club said: "It is with great sadness and a very heavy heart that we have to inform you of the passing of our beloved Geoffrey.
"At the age of 93 and after battling respiratory problems of late, he passed away on the morning of May 10.
"This is utterly heartbreaking… it has been a great shock.
"I hope that all members of the fan club family will agree with us that the legacy, love, skill and character of this lovely, witty, talented and generally charming man must continue through our club."
https://youtu.be/6qMP0cQXKyM
The statement was shared by Carol Barnes, who worked closely with Bayldon and co-ran the online organisation with its founder Gary Bowers.
Bayldon is believed to have had one brother but no partner or children.
As well as playing the eccentric 11th century wizard in the 1970s family show, he was also known for his role as The Crowman in Worzel Gummidge (1979-1981) and for portraying TV's Magic Grandad (1993-1994).
Bowers, 60, founded the fan club, which now has more than 1,500 members around the world, around 15 years ago after falling in love with Catweazle as a child.
He said: "I had been seriously ill and didn't think I was going to make it, and I wanted to leave something behind.
"I always loved Catweazle as a child and whole families used to sit around the telly together on Sunday afternoons to watch it.
"It's such a timeless piece of work that it will never be dated, the only things that have really changed are the motor cars and the telephone boxes.
"I once got hold of Geoffrey's telephone number and I remember pacing up and down with it for about three hours before deciding to ring him, and then he was really, really nice.
"He was very generous with the club and he would always come along to our annual get-togethers, even after he fell ill."
Born in 1924 in Leeds, Bayldon trained at the Old Vic Theatre School and appeared in several theatrical productions in his youth before moving into film and TV. Prior to his memorable children's TV roles, Bayldon appeared in several films including Casino Royale, a James Bond spoof based on Ian Fleming's debut 007 novel, as well as King Rat and To Sir, With Love.
The veteran actor will also be remembered for twice turning down the chance to be the time lord in Doctor Who.
He later appeared in the sci-fi series as an Organon in a 1979 episode entitled The Creature From The Pit before going on to play an alternative version of the first Doctor in audio plays.
In an interview with Sci-Fi bulletin in 2011, Bayldon said he had no regrets about not taking on the role of the Doctor.
He said: "I've never been in love with sci-fi. It doesn't terribly interest me. "I turned it down simply because I'd been playing old men and I didn't want to play any more.
"I didn't read a script so I never turned an offer down and when I got Catweazle, I thought, 'That's why I turned Doctor Who down'. I've played the part on audios since and thoroughly enjoyed doing it."
In recent years, Bayldon appeared in TV shows including New Tricks, Casualty and My Family.
Author Stuart Manning, who interviewed Bayldon several years ago to write his behind-the-scenes story The Worzel Book, told the Press Association the star was 'a grand old guy'.
Get the latest updates, reviews and unmissable series to watch and more!
Thank you for signing up to Whattowatch. You will receive a verification email shortly.
There was a problem. Please refresh the page and try again.