Celebrity MasterChef's Syd Little: 'I'm getting ruthless in my old age!'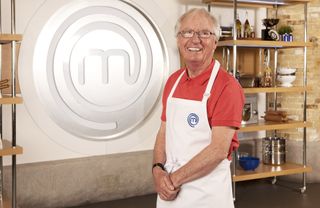 (Image credit: BBC/Shine TV)
The slimmer half of former double act, Little and Large, gives What's on TV the inside story on their split, as Syd competes in Celebrity MasterChef (opens in new tab) next week…
So Syd, what are you up to these days, apart from appearing on Celebrity MasterChef?
"Well, I've been on my own since me and Eddie split 15 years ago, and being the straight man of the act, it was hard at first. I'd phone up agents and say, 'Can you get us any work?' and they'd say, 'Well, people know what Little and Large do, but what does Syd do on his own?'
"But then I got into it and for the last 10 years I've been doing cruise ships and pantomimes, and now my wife, Sheree, has had this restaurant business for three years. It's a pub really, The Strawberry Gardens in Fleetwood, and it's pub grub – we call our little section The Little Restaurant. Sheree and the chef do the cooking and I'm quite happy going out front telling all my showbiz stories and about being on the Royal Variety Show. I've got all my memorabilia up and people love it!"
So why did you and Eddie pack it in? Was there really a feud?
"No! Eddie, bless him, had a heart transplant and that's what split us up. There was no way he could go on after that. He did a bit of after-dinner speaking and now he's retired. A lot of people think we split up because we weren't talking to each other, but we do talk and still do - I've just been on the phone telling him I'm on MasterChef! He was very keen, wanted to know all about it, and we're still close to his family, they all want to know what's going on."
Do you keep in touch with any other showbiz pals?
"Oh yes, but unfortunately a lot of them have died off. Poor old Keith Harris, bless him, he lived up the road from us in Poulton. So he's gone now, so is Frank Carson, Norman Collier… they're all friends we've worked with in the past, it's a shame. I still talk to Tommy Cannon and Bobby Ball, 'cause Bobby lives nearby in St Annes.
"It's funny, we're very rarely mentioned when they talk about double acts, but we were 14 years on the BBC, not a repeat in sight neither! I always feel we were never appreciated as much by the BBC. I know The Two Ronnies were on for 21 years, and Eric and Ernie, not that we were in the same league as them, but you'd have thought we'd get a bit more appreciation, but not to worry!"
What made you go on Celebrity MasterChef?
"I was asked and it's hard to say 'no' in showbiz! My agent's always phoning me up and saying, 'Do you fancy doing this that and the other?' and you think there's no chance. But blow me down, just before Christmas this agent phoned me up and said, 'I've put you down for MasterChef'. Next thing he said, 'You're in!' I didn't expect it so I had to call out to Sheree and say, 'Quick! Get me cooking!'"
So you don't cook much at home?
"No, because Sheree's such a good cook. I've done curries and stews in the past that my mum used to do. When I was a kid growing up, right 'til a teenager, I knew what I was getting Monday, Tuesday, Wednesday… egg and chips, stew, you got the same thing every day! So when this Celebrity thing came along, I had to start to learn to cook, so Sheree's been giving me the basics."
How did you find being on Masterchef?
"I must admit, it was nerve-racking, but it was a great experience and an eye-opener. The worst thing was going to work in the professional kitchen with Aldo Zilli - our little pub kitchen is nothing like that! The pressure, wow, for two hours I thought I was in Hell, it was that hot! After two hours, I was drained. I'm no chicken now, I'm 72!"
What did you make for your signature dish?
"In the pub we do our own beer batter so I thought that'll be good, fish chips and mushy peas, real Lancashire-type thing. But blow me down, the first day we went in for the invention test, I got to my station, pulled back the sheet and all I recognised was a piece of rhubarb, a load of herbs and spices that I didn't have a clue what they were, a piece of cod and a potato! So I thought, 'Well this is it, fish and chips!' It would have been better with the beer though."
How did you find the judges, John Torode and Gregg Wallace?
"John is very aloof, doesn't look you in the eye, which I suppose he has to be because he doesn't want to show any favouritism. He was very abrupt whereas Gregg is the other way round. It was quite comical because John didn't have a clue who I was, being Australian, and Gregg knew all about me, of course. He was saying, 'These two were getting 18m viewers in the '70s, Saturday night primetime TV!'"
Has the experience encouraged you to cook more or put you off?
"They said, 'We hope you go away having learned something' and I did - I learned not to cook! No, to be fair it's taught me a lot and now I feel like I want to cook and know all the spices and things. I never knew about herbs and spices before."
So would you do any other celebrity reality shows now?
"Hmm, I don't think I could do Strictly Come Dancing because I don't think I'd be able to lift anybody up, because of my back. Celebrity Get Me Out of Here!, I don't like rats and god knows what and eating what they have to eat. Big Brother, I don't think my wife would appreciate me being in the same room as all these people stripping off and doing all these horrible things. But I suppose if the money was right, you never know. It would have to be for the money, not for the fun of it. I'm getting ruthless in my old age!"
*See Syd on Celebrity MasterChef on Thursday 25 June at 9pm and Friday 26 June at 8.30pm, on BBC1
Get the latest updates, reviews and unmissable series to watch and more!
Thank you for signing up to Whattowatch. You will receive a verification email shortly.
There was a problem. Please refresh the page and try again.