Charlie Clements reveals he got uncomfortably close to the axe in Elizabeth I (VIDEO)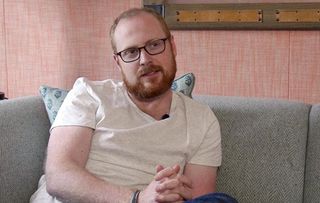 Ex EastEnders star Charlie Clements falls foul of Queen Elizabeth in his new role and explains he got a real sense of what it's like to be beheaded!
Ex EastEnders star Charlie Clements plays Robert Devereux, Lord Essex, in new Channel 5 docu-drama Elizabeth I. He's an ill-fated courtesan to Queen Elizabeth I who was beheaded for treason – an uncomfortable experience Charlie which re-enacted during filming.
Charlie told What's on TV: "Three times they had a go at him! It didn't work the first time, so three drops of the axe.
"We did re-enact that bit... no actors were harmed in the making of the series! ...[But] it was weird."
Devereux was an important member of Elizabeth's court. "He's very confident, suave, and charismatic and he tries to woo Elizabeth in her later years. She likes having him around, he makes her feel young again, but his underlying thing is he's trying to gain as much power as possible and he eventually leads a coup against her and overthrow the queen, which doesn't work and he's ready for the chop!"
Elizabeth I is another docu-drama by Channel 5 which explores the iconic monarch's life. Charlie, 29, starred in another docu-drama for Channel 5 last year, playing Henry VIII.
It's an interesting journey from Albert Square actor to royal figure; did Charlie have any idea why he's being cast in regal roles?
"I don't know. For the first time, with Henry VIII, Chris our director had seen a short film I'd done and called me in to do an audition off that. Maybe it's the beard! ...And this time round it was Chris again, he asked if I would play Lord Essex, and at first I was a little bit cagey about doing it because I'd been Henry not so long beforehand, but as soon as he reassured me I jumped at it."
Elizabeth I starring Lily Cole premieres on Channel 5 on Tuesday, May 9. Charlie stars in the episode screening on Tuesday, May 23.
Get the latest updates, reviews and unmissable series to watch and more!
Thank you for signing up to Whattowatch. You will receive a verification email shortly.
There was a problem. Please refresh the page and try again.