Charlotte Hawkins: 'Piers will make my life hell if ITV loses the Sport Relief Boat Race!'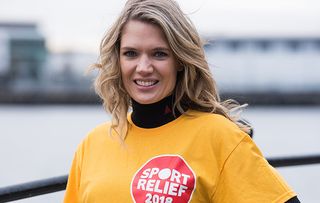 (Image credit: BBC / James Stack)
Charlotte Hawkins on feeling the pressure as she take part in a special celebrity Boat Race in aid of Sport Relief
Charlotte Hawkins is taking to the water with the likes of Jake Canuso and Nicola Thorp for Sport Relief. They will be part of an ITV rowing team who will do battle against famous BBC faces including Sophie Raworth and Dan Walker.
Sport Relief's Clash of the Channels Boat Race will be part of Sport Relief Night and here Good Morning Britain's Charlotte Hawkins tells TV Times about picking up her oars to row for ITV…
TV Times What rowing experience do you have?
Charlotte Hawkins: "I was never sporty at school but I've rowed in the gym and I've canoed once! I've been told there's a one percent chance of falling in. I'm worried I might be that one percent. I've enjoyed it though; it's like a dance on water. I've loved meeting the Olympians, like Sir Steve Redgrave, who are training us."
TVT What have you found hardest?
CH: "I got fit from doing Strictly Come Dancing but now I've realised rowing isn't about strength. It's more about timing and pulling together as a team. I don't want to be the one that goes out of time or gets smacked in the chest by an oar."
TVT Is there rivalry between the BBC and ITV teams?
CH: "I'm feeling the pressure because Piers Morgan told me not to return to the Good Morning Britain studio if Dan Walker wins. Piers has a real rivalry with BBC Breakfast. He will make my life hell and would remind me on a daily basis like he has done with Strictly! The last thing I need is Piers coming along and yelling at me from the sidelines on the big day. But maybe he could put off Dan with some insults! I've already embarrassed myself with Dan because I said to him, 'Get used to seeing my back as we get ahead of you.' He said, 'That would mean you are losing because we are actually going that way!'"
TVT Why is Sport Relief so important?
CH: "You can see people either do amazing things or make fools out of themselves! It does a great job at giving money to really important causes in this country and abroad from stopping the spread of malaria to funding mental health provision and maternal health, which are this year's focuses."
TVT Will your little girl Ella Rose be cheering you on?
CH: "I don't know if she will come and watch but I will definitely get her involved in it somehow. When I did Strictly, she loved it and was doing lots of dancing. I will have to get her into rowing. It is is really important to be active with little ones."
TVT Have you kept up with your dancing after Strictly?
CH: "Ella Rose often asks me to dance and so we do some together. I would love to have kept it up and maybe I will go back to it. But once you have danced with somebody like Brendan Cole it is very difficult to go down to your local village hall and do a ballroom dancing class. Maybe I will get into a different type of dancing!"
The Clash of the Channels Boat Race will air as part of Sport Relief Night on Friday 23rd March on BBC1 and BBC2 from 7pm
Get the latest updates, reviews and unmissable series to watch and more!
Thank you for signing up to Whattowatch. You will receive a verification email shortly.
There was a problem. Please refresh the page and try again.