Charlotte Riley: 'There's a touch of Lady Macbeth in my version of Kate Middleton. But not too much!'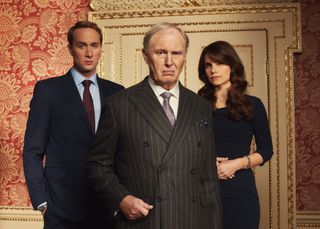 (Image credit: BBC/Drama Republic)
Charlotte Riley explains how she prepared to portray Kate Middleton in the royal drama King Charles III
Charlotte Riley was surprised and delighted to be cast as Kate Middleton, opposite Oliver Chris as Prince William, in the TV adaptation of Mike Bartlett's stage play King Charles III.
In the one-off drama, Charles, played by the late Tim Pigott-Smith, triggers a constitutional crisis shortly after becoming monarch.
So how did the Peaky Blinders actress prepare for playing a real-life royal? We caught up with her on set to find out...
What was your starting point for this role? "I started to do a lot of research on YouTube into the real Kate. I wanted to see how the public perceive her, so I watched a lot of footage of people meeting her, you know when the royals do the rounds and shake people's hands."
What do you think the public perception of her is? "A lot of what the people know about her is the way she looks and her fashion, but I think I was more interested not necessarily in her, but in the way that, as a society, we have chosen to view her that way. I find it quite interesting how that is moulded and shaped by the media."
What's the version of Kate we see in this drama? "I see Kate [in King Charles III] as being incredibly pragmatic – it's like she's the CEO of a company. You have to drive this machine to be more relevant in the society we live in now, and there's no shame in that. I like to think that behind closed doors she's as ballsy and feisty and opinionated and forthright as she is in this. But I wouldn't wish the responsibility she has on anybody."
Has playing her changed your view of the royals? "I have a deeper understanding of the restrictions and the protocol, and the massive weight of responsibility that they have. And I understand how they do the best job that they can do whilst having this massive amount of tradition and yet striving to be modern and move forward and be relevant."
The version of Kate in King Charles III is ambitious, isn't she? "There's a touch of Lady Macbeth in there, but not too much! She could be perceived as ambitious and trampling, but I don't really think that's what she's doing."
King Charles III premieres on BBC2 on Wednesday, May 10 at 9pm
Get the latest updates, reviews and unmissable series to watch and more!
Thank you for signing up to Whattowatch. You will receive a verification email shortly.
There was a problem. Please refresh the page and try again.