Chris O'Dowd: 'I was a big fan of LA Law, but law sounded boring so I took the LA bit instead!'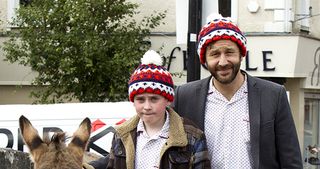 (Image credit: Patrick Redmond +353872600976)
TV & Satellite Week chats to Chris O'Dowd about the third series of Moone Boy, which he created, and co-writes, and is loosely based on his own childhood in Boyle, County Roscommon (Sky1, Monday)
Can you tell us a little about the new series?
"There's loads of weird stuff this time. In the opener, the boys have their first trip without their parents and end up going into business, and we've got a UFO episode which is one of my favourites. I found out when I was young that Boyle is the UFO capital of Europe. I never saw one, but I remember it caused an uproar in the town and gave Boyle a tourist uplift."
How did you enjoy adding another string to your bow by making your directorial debut?
"It was great because I know the cast and story so well, but it was stressful because there were a lot of logistics and a lot more work. It is hard to direct when you are playing a character that appears and disappears because that is the one time when you need to be looking at a monitor to see if it's working, but I gave myself very few notes because obviously my performance was just really good right out of the blocks."
Martin Moone is now 13 in the series. How long can he conceivably have Sean as an imaginary friend?
"He can't have him forever, but I like the idea that he keeps Sean but we realise that he has a mental illness. The show works without Sean, but it's not so fun for me so that's why I have taken on another job as director to make myself useful. We're going to deal with that though because I definitely want to go back and do more Moone Boy in some capacity."
Have you enjoyed working with young David Rawle, who plays Martin Moone and is now 14?
"He is lovely, just a proper gentleman and, I feel old when I say this, a credit to his parents. He is fun but a hard worker and he is a real 'Please and thank you' kid, which is rare. I'm sure he is sick of answering questions about me, but I feel responsible that he has a normal childhood and I think he is going to be around for years."
When you were David's age, did you ever think about a Hollywood career?
"It just wasn't on my radar at all. I was about 6ft tall by the time I was 11 and I was a big sporty kind of guy so it just wouldn't have been part of my world. When I was very young I was a big fan of LA Law so I wanted to be a lawyer and then I discovered what that meant and that it sounded really boring so I just took the LA bit instead."
Watch a spoof filmed especially in London to promote the new series of Moone Boy on Sky 1:
http://www.youtube.com/watch?v=qg4ORza_xFE
Get the What to Watch Newsletter
The latest updates, reviews and unmissable series to watch and more!