Coronation Street legend Sally Lindsay teases her new C5 revenge thriller Cold Call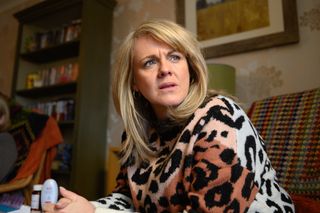 (Image credit: VISHAL SHARMA)
Sally Lindsay reveals fact and fiction are in close contact in Cold Call...
Imagine an anonymous cold caller stole your life's savings in a single phone call. That's exactly what happens to care worker June Clarke, played by Coronation Street legend Sally Lindsay, in new cat-and-mouse thriller Cold Call.
With the police and bank powerless to help, June despairs… until she meets old school pal Des (Daniel Ryan) who happens to know a thing or two about modern fraud. Having had a bellyful of being a victim June joins forces with Des against criminal mastermind Kirk (Paul Higgins), unintentionally embarking on a path of pure, cold revenge.
We caught up with former Coronation Street star Sally Lindsay, who reveals why C5's new four-part series Cold Call is compulsive viewing…
How is June tricked in Cold Call?
Sally Lindsay: "June's not particularly vulnerable and she's not stupid, but she's a nice person and a crowd pleaser. The cold callers are clever – they make her question herself. It's a vile practice that can happen to anyone."
Have you experienced anything like this in real life?
SL: "Funnily enough, before I went to a meeting for this role, I actually got a cold call. It was supposedly from the gas board, and even though I knew it wasn't because of how we pay our bills, I still questioned myself. That's what they make you do. I've had a few more calls since filming but now I know what I'm looking for."
Is the series well researched?
SL: "The writers could do a PHD on scams; they literally know everything about them. It's mind-blowing and scary. At one point I had to ask them to stop telling me anything or I'd never put a card into a machine ever again."
Do you think viewers will learn something from Cold Call?
SL: "I think so, because Cold Call shows how they take June's money, where it goes and who it goes to. I think it will answer a lot of questions. It's very realistic and of the times. Our director Gareth Tunley is really clever. He drips suspense in a subtle way, taking June down a scary rabbit hole… And then all is revealed!"
Channel 5's new thriller Cold Call, starring ex Coronation Street star Sally, starts Monday 18th November at 9pm on C5.
Get the latest updates, reviews and unmissable series to watch and more!
Thank you for signing up to Whattowatch. You will receive a verification email shortly.
There was a problem. Please refresh the page and try again.