Cooking With Joan Crawford | Dine like the Hollywood legend with this divine new cookbook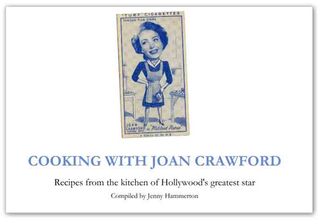 Ever fancied yourself playing host or hostess in true Hollywood style, then why not check out Cooking With Joan Crawford, a fab new recipe book featuring over 30 of the Queen of the Screen's signature dishes. The star of classics cinema fare like Mildred Pierce and Whatever Happened to Baby Jane, Joan Crawford (opens in new tab) was also a legendary hostess, whose dinner parties in the 1930s were famed throughout Tinseltown. The proud Texan, who also sat on the board of Pepsi-Cola, liked her party offerings elaborate and exotic, but away from the bright lights she preferred her food down home.
Jenny Hammerton, the proprietress of Silver Screen Suppers (opens in new tab), a website dedicated to the taste buds of old Hollywood stars, is a self-confessed fan of Crawford and her culinary habits. In preparing her book, Hammerton tried and tested every recipe (and made them UK kitchen friendly), which include soups, salads, appetisers and hors d'oeuvres, hearty old-fashioned mains like Turkey and Noodles Alfredo, and retro desserts including Floating Island and Lemon Pie. Jenny also includes notes on where she found the recipes and where they were first published.
Here at Movie Talk towers, we've tried out two of the recipes, the Bisquick cheese straws (we made our own Bisquick, but you can get it in Tesco) and the Charcoal Broiled Steak with Roquefort Cheese. Both were delicious and very easy to make. Best served along with a Joan Crawford movie matinee and a hostess trolley full of Cosmos. Just don't forget the ugli fruit (Joanie's favourite) or the wire coaters will be out in a flash. To quote Jenny, "Have a glorious time sprinkling star dust around your kitchens my lovelies!"
Cooking With Joan Crawford is available exclusively through Blurb (click here (opens in new tab)) in two versions, one with a swanky hardcover dust jacket with extra titbits about how Joanie liked to entertain, and an image wrap version (sans jacket).
Twitter @silverscreensup (opens in new tab) #joancrawfordcookbook
Get the latest updates, reviews and unmissable series to watch and more!
Thank you for signing up to Whattowatch. You will receive a verification email shortly.
There was a problem. Please refresh the page and try again.