Couch Potato Pickings | Sweet Home Alabama, and other films based on song titles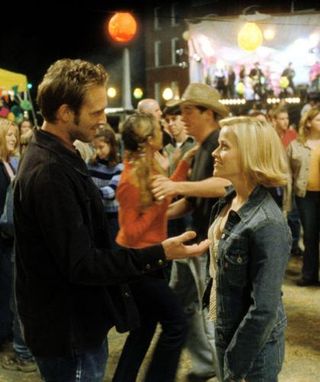 The classic 1974 song Sweet Home Alabama was a controversial response by the band Lynyrd Skynyrd to Southern Man and Alabama - two songs from the 1970s by Neil Young that express anti-southern sentiments. Read more about that here.
Don't expect any major controversy from this 2002 film though. It tells the story of New York fashion designer Melanie (Reese Witherspoon), whose betrothal to a Big Apple bachelor sees her returning to her Alabama hometown to persuade her estranged husband into finalising a divorce.
Unlike Sweet Home Alabama the song, Sweet home Alabama the film exposes America's north south divide in a fluffy rom-com kind of way. With its message about the importance of a country gal's roots, this movie's much more focused on its sweet home message than it is on defending Alabama and the south.
It's a sweet film though. Reese is great, and I find it hard to fault a soundtrack that features Avril Lavigne, SHeDAISY, Sheryl Crowe and Dolly Parton as well as country star Jewel singing the title track?
Now, what other films are based on song titles?
That question isn't as simple as it sounds. Films based on the lives of singers or songwriters named after their biggest hits don't count. Take that other Reese Witherspoon film, Walk the Line, about the Life of Johnny Cash; the song didn't exactly inspire the film did it?
And title songs especially written for the film don't count either. That's films such as Flashdance or Fame or Footloose, to name just a few of the Fs.
No, I'm talking films that are named after songs that already existed, in many cases long before the film stars were even born. Here are some of my faves:
Roy Orbison's classic song inspired the title of this movie in which a rich Richard Gere hooks up with pretty hooker Julia Roberts. Hear the Big O singing it here.
Who'd have thought back in 1975 when this song topped the charts, that a story told through Abba songs would prove so successful? Come back soon for more about that.
Bobby Vinton's 1963 version of this song from the 1950s is featured several times during David Lynch's surreal thriller. It only features once on this post - here.
This 1961 song by Ben E King inspired the title of this 1986 coming-of-age drama starring River Phoenix, and plays at the end, and here.
This song was a hit in the 1960s for British singer Dave Berry. It was re-recorded by Boy George as the title song for this 1992 thriller about a fugitive IRA man who befriends a British soldier's enigmatic ex-girlfriend. To hear the song click here.
The velvety tones of Johnny Mathis are perfect for this 1989 romcom starring Cybill Shepherd. The song is named after his 1957 hit. Chances are you'll get to hear it if you click here.
The title of this 1996 romcom about a hectic day in the life of single parents Michelle Pfeiffer and George Clooney comes from the 1963 song by The Chiffons. One fine click here will give you the song.
This festive comedy about the dramas caused by a Christmas lighting display was named after that jolly carol with the fa la la refrain. I'd include a link but it's not something you want to listen to in June.
This 2001 horror movie about two siblings who run into trouble after encountering a sinister truck, takes its name, and a crucial plot development, from the classic 1938 song.
Alcoholism and its effects on a relationship are addressed in this 1994 drama starring Meg Ryan and Andy Garcia. The movie's title is taken from the song of the same name, recorded by Percy Sledge in 1966.
Sweet Home Alabama is showing on BBC3 tonight at 10pm
Get the What to Watch Newsletter
The latest updates, reviews and unmissable series to watch and more!