Cara Theobold: 'We do a lot of kicking ass in Crazyhead!'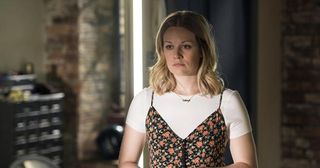 (Image credit: Steffan Hill)
From the creator of Misfits comes Crazyhead, E4's new horror-comedy show about two young women trying to rid the world of evil demons. Actress Cara Theobold reveals all...
If you loved Misfits you'll love Crazyhead, E4's new horror-comedy series from that show's creator Howard Overman. Actress Cara Theobold tells us what it's like playing a kick-ass chick!
What can you tell us about your exciting new show Crazyhead? "While the genre is all about demons and the underworld, it's also a very dark comedy, so there's a way in into it for anyone, even if that's not something you'd ordinarily be into. There's so much going on. It's very much about this group of friends and the dynamic between them, and them struggling to survive in a world where demons are real. And you've got to fight them."
Does that mean you and your co-star Susan Wokoma (Raquel) get to do lots of stunts then? "Oh yes! We do lots of stunts and all our own fighting. We do a lot of kicking ass!"
https://youtu.be/_whoNJNxxO8
Tell us about Amy, the character you play in the show? "Amy's in her early twenties and stuck in a rut. She lives with her best friend Suzanne and works in a bowling alley; she's stuck in this place where nothing's really happening."
Life soon gets very exciting for Amy though, doesn't it? "She's having these hallucinations, where she can see demons, which is very traumatic. She then meets Raquel (Wokoma), who's like this whirlwind that comes into her life. They strike up this unlikely friendship and Raquel introduces Amy to the world of demons and demon-hunting."
Raquel (Susan Wokoma) teaches Amy all she needs to know about demon-hunting
How does Amy feel about that? "She basically gets dragged along. Amy's forced to be brave, take action and throw herself into things. There's a big, bad head demon, who's on a mission to come out of the underworld and take over, so these unlikely demon hunters have to try and stop them. It's not just about fighting demons for fun – it's to save the people you love and to save the world!"
So what can you tell us about Amy's love life? "Amy's love-life at the start of the series is pretty non-existent. Then she meets Tyler, Raquel's brother, and instantly there's a massive attraction there. In the whirlwind of everything that happens they get together and that's a great moment for Amy, not being scared and doing what she wants."
Isn't there another man in Amy's life? "Oh yes, that's Jake – he's Amy's best mate from school and they work together. He's always been a bit in love with her, but she pays no attention to that. He's a bit of a ****head, but really good fun, and they've always hung out – but she doesn't see him in that way at all. As things really kick off, however, Amy realises just how loyal Jake is as a friend, he'll literally do anything for her. So their friendship really deepens."
Jake (Lewis Reeves) works with Amy - and it soon becomes clear he's SOOOO in love with her!
What was it like acting opposite the demons? "We had loads of green screen. I'd never done it before so it was a great new experience. We had a lot of stuff like car chases that we'd green screen. With the demons themselves, we'd work with the actor and they'd do a take where they had green marking dots on their face so the amazing FX team can put their demon faces on afterwards. I've seen some of the stuff and it's really scary."
And can you tell us about any of the weirder things you had to do? "I wee on people quite a bit! To do an exorcism in this world, you have to wee on someone; it's one of the things alongside speaking Latin and burning hair. That was funny on the first day. Obviously, I don't actually wee and it's not graphic at all – you just see my face! But it was a funny way to start the shoot. It was jumping in the deep end of what the series is, very dark and scary, but the humour just cuts through it!"
How does filming Crazyhead compare with playing kitchen maid Ivy Stuart in Downton Abbey? "It's completely different! Obviously, it's set in the modern day and the supernatural world, and we're in more places than just one location. In Downton Abbey, I was playing a young girl whose job as a servant was pretty much all she had hoped for whereas, in this show, I'm playing a modern day girl who can do anything – the sky's the limit!"
Crazyhead starts on Wednesday, October 19 at 9pm on E4.
Get the latest updates, reviews and unmissable series to watch and more!
Thank you for signing up to Whattowatch. You will receive a verification email shortly.
There was a problem. Please refresh the page and try again.