Crufts: 'Protect your dog from lungworm,' says Tess Daly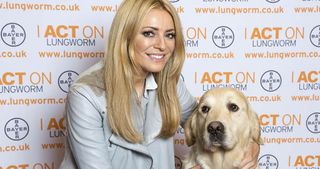 (Image credit: PA)
Dogs of all breeds, shapes and sizes are getting preened, pampered and groomed for the world's largest dog show Crufts this weekend. But while the pooches and their owners prepare to go on parade at The NEC in Birmingham, Strictly Come Dancing co-host Tess Daly was there today (Thursday 10 March) to raise awareness of the lungworm parasite, which poses a growing risk to dogs in the UK, because she knows first-hand the terrible effects it can have on our canine friends…
The life-threatening parasite is carried by slugs and snails and can even be found in their slime, so if a dog accidentally swallows one of these common garden pests, it poses a serious health risk. If the lungworm parasite makes its way into a dog's system, it can cause symptoms such as breathing difficulties, chronic coughing, excessive bleeding, vomiting and, in some cases, death.
It was only when Tess got involved in the Be Lungworm Aware campaign, she became increasingly convinced that her beloved Golden Retriever, Sam, died of lungworm.
"Back then I didn't even realise lungworm existed," said Tess. "It was only subsequently that I became aware of the parasite and symptoms and I thought, 'hang on this sounds horribly familiar'.
"It wasn't confirmed what was causing Sam's symptoms, but he was very tired, off his food and coughing a lot. Eventually we had to send him to a specialist vet centre as his symptoms worsened. They did all sorts of tests on him, and even a blood transfusion in an attempt to save his life, it was awful. We had to liquefy all his food and feed him through a syringe, and by this point he was vomiting and had severe diarrhoea, and in the end we had no choice but to put him down, he just couldn't carry on."
Tess was at this year's event in partnership with the Be Lungworm Aware campaign from Bayer Animal Health, which tries to encourage dog owners to talk to their vet about the real risk of lungworm in their area and to seek preventative treatment.
"We are a nation of dog lovers and I think the public will appreciate being made aware of lungworm and its dangers," said Tess. "Cases are on the rise in the UK so I want to help bring increased awareness to the Be Lungworm Aware campaign.
Evidence from the Royal Veterinary College has confirmed that the parasite has spread across the UK, from its traditional habitat in the south of England and Wales, and is now widespread in Central England, reaching northern regions and Scotland.
Bayer Animal Health has launched an interactive lungworm map to assist with plotting the prevalence of the disease across the UK and is part of a wider research programme to monitor and document the spread of the potentially fatal disease. Cases of lungworm are added to the map to show owners and vets where dogs are at risk.
Watch Tess talking about the campaign here…
http://www.youtube.com/watch?v=WTzQmGygXvI
Dog owners can view reported cases of lungworm in their area by searching their postcode at lungworm.co.uk and join in the conversation at facebook.com/jungleforpets.
Watch highlights from this weekend's Crufts on Channel 4 at 7.00pm on Saturday and Sunday.
Thank you for signing up to Whattowatch. You will receive a verification email shortly.
There was a problem. Please refresh the page and try again.