Crystal Yu: The Casualty one-shot episode is 'so exciting, but also so scary'!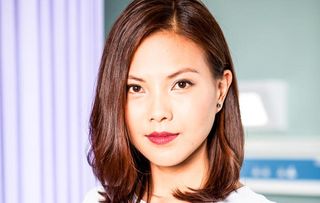 (Image credit: BBC)
Crystal Yu reveals the Casualty cast and crew are working hard on an ambitious TV first!
Series 30 of Casualty began with a bang – a helicopter crashing into the ED! Then it escalated with the death of Casualty favourite Dr Cal Knight (Richard Winsor). And it's not over yet...
Crystal Yu, who plays Dr Lily Chao, revealed the long-running medical drama is determined to end its 30th anniversary year by breaking new TV boundaries.
We've heard rumours that elements of the One Shot episode could be live. Is this true? "No, it's not a live episode. But it's literally one hour in the ED all filmed in one shot. I think its something that's not been done on TV before…"
What's the atmosphere on set like in relation to this ambitious episode? "There's a lot of adrenalin on set. It's very much like a play, but with a play you only have one stage, whereas in the studio we've got the reception area, resus, admin, and upstairs. It feels like a play, but on a much larger scale. Everyone is involved as well!"
It must be a technical nightmare! "The camera team and the director Jon Sen are working out how best to capture certain scenes and different angles. Being on set and seeing how technical it all is is really exciting. It's like watching a master-plan coming together!"
Are you worried about fluffing your lines? "I got so scared initially… what if I forget my lines! And I've a big chunk of medical stuff in the middle. I have to internalise my sensible Lily-side and not let Crystal Yu come to the surface! We've been rehearsing it and starting to see how things are pieced together. Everyone is working together at the same time because it requires an immense team of people."
How long has everyone at Casualty been keeping this a secret? "There's been talk and rumours about it for a while. Was it on? Was it not happening? But I didn't think anything of it until we had a cast meeting and it was confirmed. It's so exciting, but also so scary."
Casualty has never been afraid to push the boundaries… "It is something I love about Casualty, it's always challenging assumptions. From the female genital mutilation (FGM) episode to Jason Durr's recent bipolar storylines with nurse David Hide. It's stuff people have a stereotypical representation of what it might be, but Casualty does a good job of bringing these issues to light. It questions assumptions and challenges what we think we know. Hopefully educating everyone – from the actors' point of view, we're always learning more."
For more on the One Shot episode watch our BAFTA red carpet interview with Amanda Mealing and read our 8 things we know about the episode
Get the latest updates, reviews and unmissable series to watch and more!
Thank you for signing up to Whattowatch. You will receive a verification email shortly.
There was a problem. Please refresh the page and try again.