Dan Walker: I'll mention Chase the Case when I next see Bradley Walsh!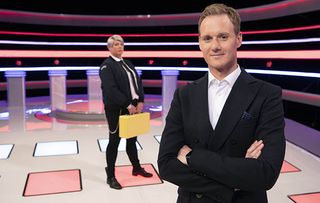 (Image credit: BBC/Bandicoot Productions Ltd/Gr)
Dan Walker reveals why his strategic new daytime quiz Chase the Case won't be confused with ITV's The Chase
Gameshows are famed for giving us catchphrases, and BBC Breakfast presenter and sports pundit Dan Walker is hoping to add some new ones to the pot next week as he turns quizmaster to front Chase The Case.
The 20-part daytime series is all about strategy as five contestants are each given a case containing a secret amount of money. They must then answer general knowledge questions to win visits to a soundproof secret vault where they can gleam information about what's in their opponents' cases.
http://www.youtube.com/watch?v=IMHviCvzoT8
As they can never see what's inside their own case, they have to work it out using the power of deduction. Dan also has a stern and silent sidekick called Deborah!
Here Dan Walker, 41, tells us why he thinks Chase the Case could be an open and shut winner…
How is Chase The Case is played?
Dan Walker: "There are five cases – one's got £5,000 in it and one's got nothing. The contestants try and decipher what's in their own case, what's in everyone else's case, and at what stage to try and grab the case they think the jackpot's in. In a nutshell they're trying to go home with as much money as possible."
What happens when competitors visit the soundproof vault?
DW: "That's the bit I love! When people answer questions correctly they get to visit the soundproof vault. Everyone's watching how the contestant in the vault reacts when cases are opened. I love when a case opens with the £5,000 jackpot in it, and the contestant is trying to stop themselves revealing that to the four people outside watching them like a hawk!"
What makes for a successful contestant?
DW: "In most quiz shows if you know your general knowledge and thrive under pressure you'll be fine. But it doesn't work like that in Chase The Case. You've got to answer questions and be able to think throughout the game about what you're going to do next. Some players have really elaborate plans, some have so much nerve I am impressed, but most people just panic!
"Contestants can become a target if they have several visits to the vault. The others decide to get rid of them because they know a lot. It tends to bring out the worst in people! You've got to have your wits about you."
What are your favourite elements of the show?
DW: "The vault's really special. It's an opportunity for people to let their guard down and say ridiculous things because they know they're not being listened to. One lady told me she dresses up as Wonder Woman each weekend! I also love Debs, who brings in the cases. She has the best dismissive face you've ever seen. She never speaks and is fantastically funny. Some contestants try to play along with her but she bats them away left, right and centre."
Given the success of ITV's The Chase, were there any concerns about using 'chase' in the title for this show?
DW: "When they said they were going to call it Chase The Case, I did jokingly say, 'Have you asked Bradley Walsh?' Although there's a similarity in the titles, the shows are a million miles separated so it's not a concern, but when I next see Bradley, I'll mention it! If we get anywhere near the success of The Chase, we'll be delighted!"
Are you a big fan of game shows?
DW: "I'm an avid game show watcher. For me Going for Gold with Henry Kelly, Catchphrase with Roy Walker, William G. Stewart's Fifteen to One, and The Krypton Factor with Gordon Burns are golden TV. I'd love to have a go on Blockbusters' Gold Run!"
You've taken part in a few celebrity quizzes…
DW: "Yes, unfortunately I have! I've been on A Question of Sport a few times. When I did Celebrity Mastermind my specialist subject was The Great Gunpowder Plot – I got beaten by Martin Lewis, who's like brain of Britain! Twice I've been out in the first round of Pointless Celebrities, but I like to blame Mark Lawrenson for that…"
On another note, you were falsely rumoured to be appearing in this year's Strictly Come Dancing. Do you get many reality TV offers?
DW: "I've had various offers over the years but in all honestly, I love doing what I'm doing with Breakfast TV, the sports shows and Chase The Case. I love Strictly and my kids love Strictly but I'd much rather enjoy it from a distance than be in the eye of the storm!"
Chase the Case will be shown Monday-Friday on BBC1.
Get the latest updates, reviews and unmissable series to watch and more!
Thank you for signing up to Whattowatch. You will receive a verification email shortly.
There was a problem. Please refresh the page and try again.