Guerrilla star Daniel Mays: 'Finding out about the Black Power Desk was a complete shock!'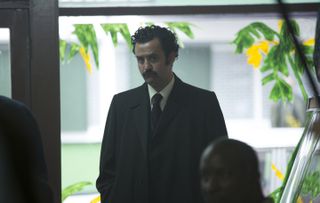 Daniel Mays is a detective targeting British black power in gripping six-part thriller Guerrilla
Racial tensions, police brutality and dogged detectives hell-bent on stamping out black activism are leading to all-out war in Sky Atlantic's six-part thriller, Guerrilla.
Set in early 1970s London, the drama follows black-power activists Jas Mitra (Freida Pinto) and Marcus Hill (Babou Ceesay), who quickly come on the radar of DI Liam Cullen (Daniel Mays).
As the deputy of a Special Branch unit called the Black Power Desk, DI Cullen is assigned to investigate and quash black political activity, but the conflicted cop finds himself wrestling with his own ideas of right and wrong while working under a seemingly bigoted boss, DCI Nicholas Pence (Rory Kinnear).
We caught up with, former Line of Duty star Daniel, 39, to find out more…
Did you know much about the British Black Power movement before the show? "No, I didn't know much at all. I obviously knew about the Black Panthers in America, and the show's creator John Ridley [Oscar-winning writer of 12 Years A Slave] actually first set out to tell that story, but when he met Idris Elba [the show's executive-producer, who also stars activist Kent Fue], he decided to transpose it over here.
"This show has been a real education for me, and finding out about the Black Power Desk, a secret unit assigned to quash black activism, was a complete shock. So while this drama will hopefully be entertaining and shocking for viewers, it will enlighten people's minds, too."
How much of the drama is true? "The series is based in fact, and while the Black Power Desk did exist, no underground black-power movement in 1971 ever resorted to violence. They were peaceful protestors, so we're asking the question, what would have happened if they had decided to step over the line?"
What sort of cop is Cullen? "He's an ambiguous character and has an interesting dynamic with his boss, DCI Nicholas Pence [Rory Kinnear], who's come over from Rhodesia – like a lot of policemen did at the time – to help the Black Power Desk. There's certainly no love lost between them, and it's very much an exercise in good cop-bad cop.
"Cullen has a great back-story because he's not just a London policeman. He's of Irish descent, so his parents were immigrants once and he remembers them being ridiculed. But like all the characters in the show, including the guerrilla activists, he's flawed."
Do you think the drama resonates with what's going on today? "Definitely! And that's why it's so important to tell this story, especially with the increase in hate crimes, racially motivated and homophobic incidents.
"It's a sad thing to say, but this dark, controversial moment in history doesn't actually feel that long ago now. But I guess it gives the drama more impetus and power."
Guerrilla begins on Sky Atlantic at 9pm on Thursday, 13 April. All episodes are available exclusively on Sky Box Sets and NOW TV from 13 April
Get the latest updates, reviews and unmissable series to watch and more!
Thank you for signing up to Whattowatch. You will receive a verification email shortly.
There was a problem. Please refresh the page and try again.