Britannia star David Morrissey: 'It has the mud and dirt of Game of Thrones, but there are no dragons'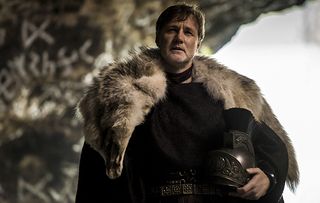 (Image credit: Stanislav Honzik)
David Morrissey stars alongside Mackenzie Crook and Zoë Wanamaker in Britannia, an epic tale of Roman invasion, Celtic tribes and mystical Druids
As smoke billows from a hilltop fortress in the Czech Republic countryside, TV&Satellite Week spies Britannia actor David Morrissey in full Roman soldier regalia charging through a nearby mud-soaked field.
We're just outside Prague watching filming on Sky Atlantic's bloody and battle-filled nine-part drama Britannia, which follows Roman General Aulus Plautius (David Morrissey) as he attempts to divide, crush and conquer the heart of Celtic Britain in the year 43AD.
But his mission is made all the more easier by rival Celtic tribes called the Cantii and the Regni, who are mercilessly killing each other in a bitter feud.
With so much bad blood already flowing, will Aulus play Cantii warrior princess Kerra (Kelly Reilly) and the Regni's powerful queen Antedia (Zoë Wanamker) off against each other?
We spoke to The Missing star David Morrissey, 53, during a break in filming to find out more about Britannia
Tell us about Aulus Plautius. Is he a fearsome leader?
"Britannia follows the second Roman invasion of Britain after Julius Caesar's expeditions, and unlike most gung-ho generals who want to create war, Aulus is more diplomatic and willing to listen. He does have the brutality of his time and has no compunction about killing people, but he believes the best way to conquer and to have longevity is to embrace some of the cultures that already exist."
What's his relationship with the Druids and their leader, Veran (Mackenzie Crook)?
"He's quite spiritual so he's very interested in the Druids and their belief system and he soon becomes obsessed with them. But Aulus's second-in-command, Lucius [Hugo Speer], is much more sceptical and is confused by Aulus's agenda."
Warrior women including Kerra (Kelly Reilly) and Antedia (Zoe Wanamaker) hold a lot of power in this show, how does your character deal with that?
"Aulus comes from a land where women don't have this kind of power and these women are more vicious and ruthless than he is, so it throws him. But what's great about being a Roman General is that you get to start fights and then have other people finish them!"
How was it working on such a huge production?
"Oh the scale of it was amazing! Seeing the massive Roman camp with a real army and horses for the first time was incredible. There's no Green Screen, either, so it's not just three fellas and a dog out there."
With its swords, sorcery and impressive production levels, Britannia is already drawing comparisons to Sky Atlantic's Game of Thrones…
"Well, it has the mud and dirt of Game of Thrones, but there are no dragons. Also, Britannia is rooted in history, certainly with the Celts and Druids and their belief systems. It's about our land, and that's what I love about it."
All episodes are available 18 January on Sky Atlantic and NOW TV
Get the latest updates, reviews and unmissable series to watch and more!
Thank you for signing up to Whattowatch. You will receive a verification email shortly.
There was a problem. Please refresh the page and try again.