David Threlfall talks about life as Frank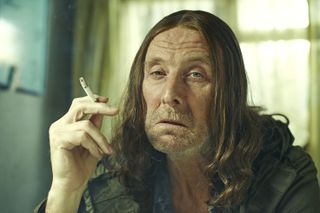 As Shameless begins its final series on Channel 4 this week, TV&Satellite Week (opens in new tab) caught up with David Threlfall to talk about his 10 years as TV's favourite layabout, Frank Gallagher…
So, how do you feel about the show ending after 11 series?
"All things come to an end – it feels the right time to finish, although some people think it should have finished a bit earlier than this. The last day had to be poignant, but because I was directing the final episode as well, I just had to get the job done so it wasn't too emotional."
Can you give us any hints about the finale?
"We have lots of the old cast back, which was terrific, and we wanted to return to where it started, so it is Gallagher-centric. It is still a love story about how a family tries to stay together despite various twists, turns and hardships. They have been described as feckless and dysfunctional, but this is a return to why that family can't live without each other."
Did you intend to stay this long in the show?
"If someone has said to me at the start, you will play the same character for 10 years, I'd have said, categorically, no. I stayed because there were still things to portray about Frank and the kind of people who are battered by the way this country sets itself up. He is a self-proclaimed bearer of the flag of modern man and somebody who is perhaps a mouthpiece for what is wrong."
Is it true that Jason Orange is a guest star this time around?
"Yes, he was a lovely lad. He just appears in a credit break, but it was a nice touch and he was smashing. There was no side to him at all. I can't speak highly enough of him."
What reaction to you get in the street?
"People always come up and say, 'I know a Frank' or 'My boyfriend is like Frank', which fills me with all sorts of dread, but people across the board just really like him."
Why do you think that is?
"He took up drinking as a mission, but he is intelligent and redeemable. He does terrible things, but when the family is up against it, he will step up. He has own moral code, even though it is bit iffy."
How do you feel about the American version of the show?
"I have been over to see the set over there and it is pretty much the same in terms of the feel of it apart from the fact that they all speak American. I did watch a couple of episodes and it was very well depicted. Joan Cusack is great as Sheila and I am a huge admirer of William H Macy. He told me he watched a bit of our show, but we both felt that you just have to do you own thing."
Shameless returns to Channel 4 on Tuesday 26 February at 10pm
Get the latest updates, reviews and unmissable series to watch and more!
Thank you for signing up to Whattowatch. You will receive a verification email shortly.
There was a problem. Please refresh the page and try again.