Dead Shadows | DVD release – Paris by night can be monstrous affair!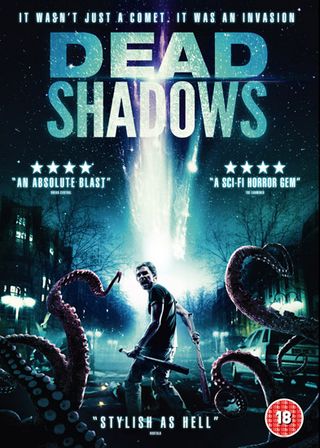 (Image credit: Alex Carter)
The final scene of this 2012 French indie sci-fi is awesome. If only the same could be said of what comes before…
After a comet passes over Paris, twenty-something Chris (Fabian Wolfrom) discovers his friends and neighbours are undergoing some kind of monstrous transformation that is mutating them into something out of this world. With the help of the gun-toting John (John Fallon (opens in new tab)), Chris attempts to escape the mayhem, but soon finds the entire city is falling victim to the comet's malevolent powers…
Dead Shadows (opens in new tab) is certainly heavy on shadow-lit atmosphere and boasts some excellent creatures and sound design (from Escape from New York's Alan Howarth), but the narrative is non-existent, the action scenes poorly constructed, and the English dubbing abysmal (I recommend viewing it in the original French with subtitles).
Heavily influenced by David Cronenberg's early body horrors, George Romero's original Living Dead cycle and John Carpenter's The Thing, debut director David Cholewa sets out to bring his own dark imaginings to the screen. If only he'd worked harder on giving us more meat to chew on before the special effects take over – or at least give his monsters more screen time and a sense of purpose (a la Nightbreed). Instead, we have endless shots of our good-looking lead running in and out of his flat after yet another brief encounter in the dark and we have no idea what the alien invasion is about.
Dead Shadows is released in the UK on DVD (opens in new tab) (in French with subtitles and Dubbed English track) annd VOD from 27 July 2015 from Bulldog http://youtube.com/v/nFnIS7jZI-Y
Get the latest updates, reviews and unmissable series to watch and more!
Thank you for signing up to Whattowatch. You will receive a verification email shortly.
There was a problem. Please refresh the page and try again.