Death In Paradise shock as DI Neville Parker is arrested for murder!
Death In Paradise ended on a shocking cliffhanger — but is Neville really a killer?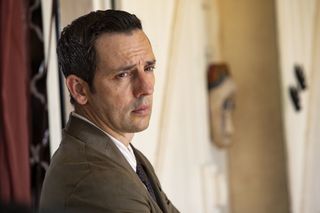 (Image credit: BBC)
There was a huge shock in store for fans of Death In Paradise tonight when DI Neville Parker (Ralf Little) found himself under arrest on suspicion of murder!
It all began with the investigation into the murder of boat-taxi driver Jake Dalton (Ben Tavassoli), shortly after Neville received an anonymous letter at the police station declaring that "A MURDER WILL BE COMMITTED TODAY".
Suspects in the case included Jake's wife Rose (Cara Theobold) and her secret lover Henry (Solomon Israel), but despite both of them having means, motive and opportunity, the one thing that never quite added up for Neville was the note, since neither Rose nor Henry seemed to have the sort of personality that would brag to the police about committing a murder — especially before it had even happened.
That's why Neville kept returning to David Cartwright (Patrick Kennedy), an esteemed criminologist for whom Rose worked as a cleaner, who had originally provided her with an alibi for the time of the murder only to later retract it when he remembered that he'd been taking part in a Q&A session on a video call, and couldn't account for Rose's whereabouts for the whole time.
After looking a little deeper into Cartwright's history, Neville eventually managed to get in touch with one of the criminologist's ex-colleagues back in the UK, Professor Karen Wilson, who provided him with some alarming insights — chiefly that he had been forced to step down from his professorship and lucrative consulting jobs after he got too close in his efforts to understand a killer he'd been investigating, and ended up over-empathising with him.
With all the pieces finally clicking into place, Neville realised that David Cartwright was Jake Dalton's murderer, and had deliberately manipulated the police at every stage of the investigation, dropping clues and red herrings alike to hide the fact that he was the killer, and had killed Jake for no other reason than to show he could get away with it. Convinced he had everything he needed to arrest Cartwright, Neville met up with him at Jake and Rose's house and revealed that he'd solved the mystery — only for David to point out that the DNA evidence that Neville was relying on didn't actually prove anything, because he'd been in the house before to drop off a spare set of keys for Rose, and could have left the DNA trail then.
Knowing David was the killer but unable to prove it, Neville went back to his shack to vent his frustrations to girlfriend Sophie (Chelsea Edge), where he discovered a special delivery — a copy of David's latest book, signed "to my number one fan". Furious at being goaded by the killer, Neville vowed that he wasn't going to let him get away with it, and headed to the hotel where David was due to do a book signing to confront him at his room. But we only overheard a brief snatch of their conversation, as the camera didn't follow Neville into the room...
The next thing we saw was Commissioner Selwyn Patterson (Don Warrington), DS Naomi Thomas (Shantol Jackson) and Officer Marlon Pryce (Tahj Miles) processing David's hotel room as a crime scene, with David's corpse on the floor. Naomi informed the Commissioner that she had important CCTV evidence to show him — and as Neville arrived at the police station for work, Selwyn arrested him on suspicion of the murder of David Cartwright!
Surely the kind-hearted and mild-mannered Neville can't be capable of murder? Did David Cartwright somehow arrange his own death as a final flourish to prove his superior intellect? Or could there be someone else on the island who wanted Cartwright out of the way, and managed to set Neville up as the prime suspect? The story will be continued in next week's episode, as the team race against time to clear Neville's name...
Get the What to Watch Newsletter
The latest updates, reviews and unmissable series to watch and more!
Staff Writer for TV & Satellite Week, TV Times, What's On TV and whattowatch.com
Steven Perkins is a Staff Writer for TV & Satellite Week, TV Times, What's On TV and whattowatch.com (opens in new tab), who has been writing about TV professionally since 2008. He was previously the TV Editor for Inside Soap before taking up his current role in 2020. He loves everything from gritty dramas to docusoaps about airports and thinks about the Eurovision Song Contest all year round.