Ex Downton star Cara Theobold on her new zombie comedy Zomboat: 'It's fresh and funny!'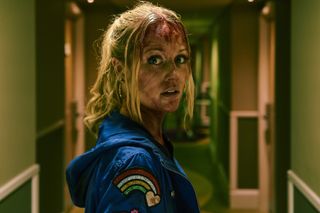 (Image credit: ITV)
Cara Theobold, who was kitchen maid Ivy in Downton Abbey, stars in ITV2's new comedy-horror Zomboat!, set on Birmingham's canals
Former Downton Abbey star Cara Theobold turns action hero and zombie slayer in ITV2's new comedy-horror, Zomboat!
Set in Birmingham, the six-part series follows two squabbling sisters, Jo (Cara) and her younger sister, Kat (Leah Brotherhead), as they frantically try to flee the city… on board a narrowboat!
In the first episode, club rep Jo is home from Magaluf and has moved in with Kat (Leah Brotherhead), who's an expert in zombie video games.
But when the sisters wake up to real wild-eyed, flesh-eaters on the street – plus one in Jo's bed after a one-night stand – they realise a zombie apocalypse has hit Birmingham and they must escape the city immediately.
Here, Cara Theobold, 29, tells us all about Zomboat! and why she can't wait to watch the Downton Abbey film…
What can you tell us about Jo?
CT: "She has a tumultuous relationship with her sister, Kat. It's that type of sisterly bond where they obviously love each other, but they also can't stand each other. However, they both have unique skill sets, which make a pretty good team."
How do they handle the zombie apocalypse?
CT: "Kat is a bit of a know-it-all when it comes to the undead, yet when it comes to killing them, she hits them with a rolling pin and then apologises! It's very funny. Jo on the other hand, has a fiery temper and isn't afraid to smash up a few zombies. But together they come up with a plan to escape on Jo's ex-boyfriend's narrowboat."
WHAT IS ON TONIGHT? Check out our NEW and Improved TV Guide
They find two stowaways on board – gym lover Amar (Ryan McKen) and his lazy friend Sunny (Hamza Jeetooa). Do they join forces?
CT: "Yes, but this particular gang is not exactly well equipped to deal with a zombie apocalypse. They need to learn how to drive the boat, plus they don't think about food, weapons or supplies."
The series is also packed with meta-references to popular zombie films and TV series, including The Walking Dead and George A. Romero's Living Dead franchise…
CT: "Yes, it pays homage to all the zombie classics and hopefully fans of the genre will appreciate that. But the show feels fresh and unique, especially as it's mostly set on canals. Even if you're not a zombie fan, hopefully you'll like it because it's funny."
It's also pretty terrifying, and not to mention gory!
CT: "There were definitely scary moments during filming when the zombies, with their bloodshot eyes, were coming for me. Also, I was always absolutely covered in fake blood and gore. It's actually quite difficult to keep a straight face while a big bucket of fake blood is being thrown at you!"
MORE: Cara Theobold: 'We do a lot of kicking ass in Crazyhead!'
This is a far cry from playing Ivy Stuart in Downton Abbey! Have you consciously picked roles that were extremely different?
CT: "I love variety; it's what keeps me excited. I've been lucky enough to do period dramas, comedy, modern gritty pieces and also some American work. I like playing different types of characters and telling different stories."
Were you disappointed not to be asked back for the Downton film?
CT: "Well, Ivy moved to America so she's busy there. I can't wait to see it, though. I'm sure they've done amazing job. It's just such a wonderful world that people love to escape into, and fans genuinely love the characters. Why wouldn't we want to see more of them?"
Lastly, how do you think you'd deal with a zombie apocalypse?
CT: "I'm a fast runner, quite resourceful and good in a crisis, so I think I'd do OK. But zombies are terrifying and kind of gross, so if I saw one, all my good skills might go out the window!"
Zomboat! airs on ITV2 on Tuesday at 10pm.
Get the What to Watch Newsletter
The latest updates, reviews and unmissable series to watch and more!
Senior Writer for TV Times, TV & Satellite Week, What's On TV and whattowatch.com
Rebecca has more than 20 years' experience in journalism and is now writing about all things telly-related for TV Times, TV&Satellite Week, What's On TV and whattowatch.com (opens in new tab).
She's interviewed all sorts of big-name stars, including Al Pacino, Ewan McGregor, Tom Hardy, Winona Ryder, Benedict Cumberbatch and more. She's also been known to step in front of the camera, dressing up as a 1920s flapper to star in ITV's Mr Selfridge and co-hosting ITV News at Ten with Mark Austin – all in the line of duty!
When she's not quizzing actors, directors and producers, you'll find her bingeing US dramas and anything horror/sci-fi/zombie-themed. But her greatest love will always be Game of Thrones… just don't mention the ending!