Doc Martin star Martin Clunes reveals the grumpy medic could be struck off!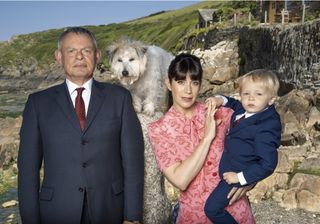 Martin Clunes' grumpy GP is under investigation as the popular series returns
As we rejoin the Doc Martin for a ninth series, there's a heavy weight on the miserable medic's shoulders. He's going to be forced to fight for his job, and the patients he pretends to detest, as the General Medical Council launches an investigation into his blood phobia and professional competency. How will the doc (played by Martin Clunes) wriggle his way out of this one?
Martin Clunes, 57, reveals what's in store in the new series of Doc Martin...
It seems like a worrying time for Martin with the GMC breathing down his neck?
Martin Clunes: "It's a very serious threat to him, they want to take his badge away and he's very annoyed by it of course. As far as Martin is concerned he's fit to practice and a bit of vomiting here and there shouldn't necessarily get in the way of that, as long as there's a bin handy! He's making attempts to remedy the phobia but it's definitely not getting any better."
MORE: Worzel Gummidge heading to BBC1 this Christmas - and this star has just been cast as Aunt Sally!
But there is a silver lining – after all that heartache and couples therapy, his marriage is finally in a good place?
MC: "Indeed, well we explored them not getting on quite elaborately and thoroughly so it's time for them to have a very healthy relationship now. They've both got their own agendas this series. While the Doc is up against the GMC, Louisa has left her job as the local headmistress and she is pursuing a career in child counseling. She does start seeing clients inside the surgery, which he really doesn't like!"
And they're considering having another baby?
MC: "Yes, that's major part of the series, but as we know conception isn't always straightforward. Given the medical persuasion of our show it's something we are able to explore, I can't tell you the outcome. But Elliot, the boy who plays James Henry, is terrific. They've written James Henry as a grumpy Doc clone this year, but of course like any three year old Elliot brings his own thing to the party. He is much funnier than the script!"
MORE: Vote in the 2019 TV Times Awards!
It's a busy series for Buddy the dog too!
MC: "Yes Buddy has a litter of puppies with the undertaker's dog, Shelley! He goes missing this series too, which is upsetting for Louisa but of course Martin is secretly thrilled. I think it's hysterical playing somebody who doesn't like dogs. But I never yell at him when we're filming, we always add the shouting later, I just mouth at him."
You've been filming Doc Martin for more than 15 years, the cast must know each other so well by now?
MC: "It is like a family, which is ghastly showbiz cliché, but it is nice because everybody's away from home. We have our quiz night once a week, which is a joy. It's in a restaurant in Port Isaac. When Sigourney Weaver was guest starring she came along and we had an Alien question. Everyone said it was rigged! There are never any Doc Martin questions…"
Where's the strangest place someone has asked you about the show?
MC: "A public toilet maybe? In fact the weirdest one was years ago when I was filming a show about dogs. We were miles outside of Alice Springs in Australia to meet with some indigenous people, talking to them about the significance of the Dingo. There were a lot of intermediaries acting as spokespeople for the local community, everyone was very jumpy with our producers. Then they opened the door and the guys said, 'Ah it's Doc Martin!' We got on very well after that!"
Your fans, the 'Clunatics' are a loyal bunch, have they been to visit yet?
MC: "Yes they have brought me quite a lot of knitwear this year actually – gloves for all the family, which is very nice of them! And a German fan came over and bought us a bucket load of different Haribo, which went down very well. People are so nice and so friendly, they even give me their dogs to bless, I love it!"
Doc Martin returns on Wednesday 25th September on ITV at 9pm.
Get the What to Watch Newsletter
The latest updates, reviews and unmissable series to watch and more!