Doctor Who star Jodie Whittaker reveals what David Tennant said about life as a Time Lord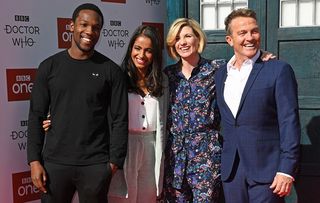 (Image credit: BBC)
The new Doctor gave us a glimpse of what to expect in the new series
Fasten your seat belts and charge your sonic screwdrivers, because in just over a week Jodie Whittaker will make history as the first female Doctor Who in the show's 55 year history.
What's On TV went along to the premiere of the first episode of the new series 'The Woman Who Fell To Earth' this week and here's what the former Broadchurch star had to say after the screening...
WOTV: There's been so much hype about you being the Doctor, how does it feel now?
Jodie Whittaker: "Yeah, it's brilliant. I was nervous when we started filming last year, but when you complete your first take, that's when you go 'okay, this is it and I can do it', but then when everybody else's hard work and all the efforts of the cast and crew and everyone else is put together, because there are so many bits you don't know about. But watching it on the big screen is amazing."
WOTV: Did you get any advice from the other Doctors?
JW: "They found out the weekend that the reveal happened last summer. It was such a whirlwind and I had wonderful conversations with Peter [Davison], Matt [Smith] and David [Tennant]. I can't quite remember them because I was so hyper and anxious, but I remember David saying you can't really describe what Doctor Who is like, it's going to go so quick, it's a journey like no other and you're going to love it."
WOTV: Your Doctor is very humorous as well as bright – how did you decide what kind of timelord she'd be?
JW: "It's kind of easier than it sounds because it's all in the writing, all those wonderful layers and characterisations are given to you on a plate in the writing. I know Chris Chibnall from Broadchurch, so I think from the audition he could sense the direction I was going in and played to that.
"For me it was just the fact that there's no rules with it, you're not limited to a time period, you're not limited to a certain etiquette or anything, you can play it how you want, and it was fun. The director gave me loads of space, because it's hard, you've got a lot of coverage to get, and I move a lot. He wanted me to continually fizz around and I was given the time to do that, which made it easier for me."
WOTV: You don't half move a lot – were you knackered by the end of filming?
JW: "I was all right. Tosin gets quite tired, who plays Ryan, used to get quite tired and would be continually going for catnaps. He's a grown man, but he naps every lunchtime – he'll literally zone out in the middle of a conversation when you're midway through an absolutely hilarious anecdote! I think for all us lot because we genuinely find each other funny and thank God we don't find Brad, who plays Graham, annoying – otherwise it would be a long nine months!"
WOTV: What's it like reacting to Doctor Who monsters that aren't there?
JW: "The main concern often is the eyeline, so you need a lot of kind of guidance of where the eyeline is, and there has been amazing moments where sometimes I'll be at the front of the pack and I'll be really committed to looking like that, and I'll turn around and Mandip, who plays Yasmin, is just off in a completely different direction. 'We've got someone with a tennis ball, you're supposed to be looking at the tennis ball!' 'Oh, I thought he were just in t'back of shot!'"
WOTV: You've had all the lookalikes now, you've had all the people dressing up like you, there were a fair few earlier on today. What's that like?
JW: "It's amazing, and I think when we went to San Diego for Comic Con, it was really emotional because we had been embraced by the Doctor Who family and they hadn't seen it and that kind of support for something before you've been able to share your work, it's wonderful."
https://youtu.be/XCt6f1Ttmy4
WOTV: A lot of this first episode was about the Doctor finding herself again – how was it for you as an actor actually finding the actual role?
JW: "I think the thing that's really helpful about episode one is being in Peter's costume for 90 per cent of it, or 95 per cent of it, and feeling – I was literally in someone else's shoes, so I felt as if I was continually trying to discover things and I suppose settle in. I really love the euphoria of the scene where the Doctor finds what she wants to wear, and because it does feel for me from that moment that the electricity's all connected back."
WOTV: Jodie, we love the idea that you've retained your Yorkshire accent – whose decision was it and what great Yorkshire qualities are you hoping to bring to the role?
JW: "So I came to the Doctor Who audition and I said 'Chris, you said it was okay to use my own voice, did you really mean it?' and then we did the auditions, and throughout that entire process it never felt wrong. But it's certainly not a Yorkshire character – it's a body with a voice, and that voice is mine. It's lovely, because a lot of the time I am working with dialect coaches or doing other things, but for this I don't have to."
WOTV: Jodie, there's a great stunt in the first episode – what was it like filming it, and do you do all your own stunts across the series?
JW: "In episode one, that's all me. I'm really proud of that. There are a couple of moments where it was not deemed appropriate that I chucked myself out of somewhere! I think that we have a really amazing stunt co-ordinator and my stunt double Belinda's amazing, and so there are moments where it needed a professional, but in this it didn't need a professional, it needed someone who was daft enough to do it and I absolutely bricked it! This was like three days in, so this is like four o'clock in the morning, week one, and obviously I was trying to be really cool in front of the crew, so I was like "yeah yeah yeah, I'll do it" but actually it was amazing."
Doctor Who begins on Sunday 7th October at 6.45pm on BBC1
Sean has been writing about all things telly for over 10 years and in that time he's been lucky enough to interview stars like Ian McKellen, Tom Hardy and Kate Winslet. His favourite shows are The Great British Bake-Off, People Just Do Nothing and Succession and in his spare time he enjoys drinking tea, doing crosswords and watching football.
Get the latest updates, reviews and unmissable series to watch and more!
Thank you for signing up to Whattowatch. You will receive a verification email shortly.
There was a problem. Please refresh the page and try again.