'I don't know whether I'll ever go back to Emmerdale!' says Kelvin Fletcher!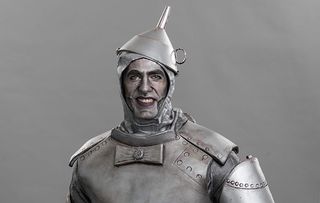 (Image credit: Michael Wharley)
Former Emmerdale actor and motor sports ace Kelvin Fletcher tells Soaplife about his magical new role in The Wizard of Oz…
It's been two years since Andy Sugden went on the run and out of Emmerdale. But we still miss him – not to mention those never-to-be-forgotten scenes when he was bare-chested - and we'd love to see him, and actor Kelvin Fletcher, back. Will it ever happen, though?
What's the story?
"I honestly don't know,' actor Kelvin Fletcher tells Soaplife in an exclusive chat. "Andy wasn't killed off, so technically I could return. But I genuinely haven't given it much thought. The two years since I left have flown by and, in many respects, my leaving still feels very fresh. I must get asked a couple of times a day when I'm going back. While Emmerdale is in my DNA, it's exciting doing different things." Such as preparing to play Tin Man in The Wizard of Oz in Blackpool later this year!
What's happening in Emmerdale? See the latest soap storylines
Ex Emmerdale star Kelvin Fletcher chats to Soaplife about his new starring role in The Wizard of Oz…
Soaplife: Tell us about the Wizard of Oz, Kelvin?
Kelvin Fletcher: "I have to confess I've never seen the famous Wizard of Oz film in its entirety, only snippets. I'm looking forward to sitting down with the script and remembering bits of the story I missed or have forgotten."
S: Are you a fan of musicals?
KF: " I'm a huge fan of musicals, so it's very exciting to think I'm going to appear in one of the classics. And in an iconic venue like the Winter Gardens in Blackpool, too. I haven't been on stage in a theatre with such a big capacity since I was a kid and I can't wait."
S: As it's a musical, will you be singing and dancing?
KF: "That's the nature of the show so, yes, I'll be doing a bit! I'm sure I'll be assigned a very good singing coach, but he or she will definitely have their work cut out!"
S: Will any of your old Emmerdale mates be coming to see you?
KF: "I sincerely hope so. I keep in touch with a lot of the guys. I was there a long time and I met some amazing people in both the cast and the crew."
Kelvin as Andy Sugden with Louise Marwood as Chrissie White in Emmerdale
S: Who are you most in touch with?
KF: "I spoke to Adam Thomas, who played Adam Barton, the other day, I chatted with Danny Miller, who plays Aaron Dingle, this morning, and I'm seeing James Hooton, who plays Sam Dingle, next week."
S: You socialise together then?
KF: "Yes. It's the first thing we talk about when we speak. When are we going to meet up for a beer, a coffee or a meal? The last time I was actually at the Emmerdale studios was when I was filming a little piece for Adam Thomas' leaving video. It always feels a bit odd driving past when I don't work there any more."
S: We know you are a keen racing driver… are you still finding time for that?
KF: "Yes. My last race is in September and, over the summer, I'm racing twice a month. It's not a huge commitment time wise, which is how I was able to continue to drive while I was in Emmerdale. And how I've been able to do some acting while I've been racing. There's room for both. I never gave up acting for racing. They're completely separate and I can do both which is brilliant."
S: What do you like to do when you're not working or racing?
KF: "I play golf with friends and at charity events. And it goes without saying that I also love spending time with my family, especially on sunny, hot days when you can go to the beach."
S: You have a little girl, Marnie Molly. Are you still enjoying fatherhood?
KF: "It's the best and the most important job I've ever had. I took my daughter to watch a race the other day and she said she wants to be a racing driver when she grows up. If ever my driving and acting jobs dried up, I could easily be a stay-at-home dad!"
Get the What to Watch Newsletter
The latest updates, reviews and unmissable series to watch and more!